Employment First Overview
---
DDS
Connecticut Department of Developmental Services Employment First Initiative
Real Work for Real Pay
We Believe...
Everyone can work and there is a job for everyone. Our job is to be creative and persistent in providing supports that help people with intellectual disabilities to find, get and keep real pay.
Not working should be the exception. All individuals, schools, families and businesses must raise their expectations.
People will be hired because of their ability not because they have a disability.
Communities embrace people who contribute.
Everyone has something to contribute and needs to contribute.
People are healthier, safer and happiest with meaningful work.
True employment is not a social service.
Employment is a win/win for everybody.
Why Employment First?
Employment is a means to higher wages and provides opportunities for people to be part of their local community. Work gives all people a greater sense of competence and self worth. Supported employment assists people served by DDS to obtain and maintain jobs through the provision of on-going support, offers people opportunities to work in the community for real wages and to build relationships with non-disabled co-workers. Employment can result in increased individual income and less dependence on the service system for supports. In addition, employment provides the rest of the community the opportunity to experience the capabilities and contributions made by people who receive supports from DDS. Everyone benefits when individuals also contribute to their communities through taxes, productive work and involvement with employer sponsored community projects.
Optimally, each worker with a disability should have his or her own job and receive the necessary individualized supports to maintain the job. When a worker has his or own individual job, they are hired by the company and paid the prevailing wage and receive the same benefits as other employees. Group supported employment options such as small work crews or enclaves provide community based work for several workers with disabilities in the same setting. Workers in group supported employment are typically hired and paid by the DDS adult service provider and may or may not receive benefits. In all cases, employment may be full or part time based upon individual preference and availability.
The key features of supported employment are:
Real work: Work that is needed and valued by the employer and is performed in a competitive integrated setting.


Real wages: Wages are commensurate to wages paid for comparable work performed by someone without a disability and are paid by the employer.


Integrated work environments: Most co-workers are people without disabilities who work in close proximity and regularly interact with employees with disabilities.


On-going support: Supported employment assumes that people will need support over time and that support can be provided by the employer, co-workers or the adult service agency. Supports are individualized and therefore can range in their type and frequency.
For more information, contact
Amber M. Burke
Director of Employment & Day Services
460 Capitol Avenue
Hartford, CT 06106
amber.burke@ct.gov
Telephone: 860-418-6006
Fax: 860-418-6001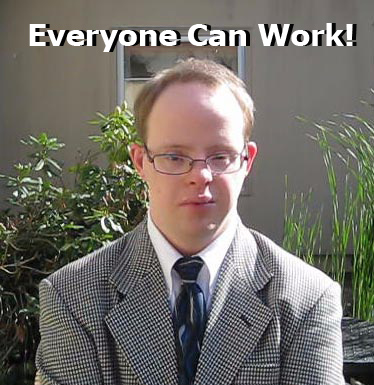 Resources
This message has been adapted from the Oregon Developmental Disability Department of Human Services Mission Statement