Press Releases
02/23/2017
CONSUMER PROTECTION COMMISSIONER PROPOSES NEW MEDICAL MARIJUANA CONDITIONS
Thursday, February 23rd – On Wednesday, January 11th, the Board of Physicians met to discuss seven (7) petitions to add new conditions to the Medical Marijuana Program. The Board took votes and made recommendations to the Commissioner, who ultimately decides what conditions the Department of Consumer Protection (DCP) will add to draft regulations, and put through the process to update the current Medical Marijuana regulations. Today, Commissioner Jonathan A. Harris informed the Board of Physicians of his decision regarding which conditions DCP will seek to add to the list of debilitating conditions through the regulation making process.
Commissioner Harris agreed with all recommendations made by the Board of Physicians saying, "The Board of Physicians provides excellent guidance and advice to the Medical Marijuana Program in Connecticut. Our program remains one of the nation's best because of its security, and thoughtful expansion. We make all of our decisions regarding the program with the goal of providing the best health care possible, and don't make decisions without serious consultation with the medical community. We're proud that our program has grown to help over 16,000 severely ill patients lead better lives in our state."
The recommendations regarding the submitted petitions are below: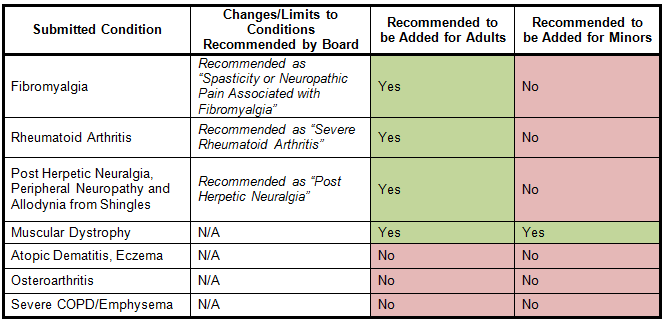 After DCP drafts a regulation to add the conditions, there will be an additional public hearing and comment period, the regulation then will be reviewed by the Office of the Attorney General, and ultimately require the approval of the Regulation Review Committee of the General Assembly.
There are currently 16,388 medical marijuana patients, and 629 certifying physicians registered with the state's program. Today, are 22 conditions that qualify adult patients for medical marijuana, and 6 conditions that qualify patients under 18. The Board of Physicians consists of 9 members found
here
.
Those who wish to petition the Board of Physicians may visit DCP's website
here
for the process, and any questions can be directed via email to
dcp.mmp@ct.gov
, or by calling (860) 713-6066.
A copy of the Commissioner's letter to the Board of Physicians can be found
here
.
###
Twitter: DCP on Twitter
Facebook: DCP on Facebook