House Speaker Amann, Caucus Members Welcomes Firefighters to the Capitol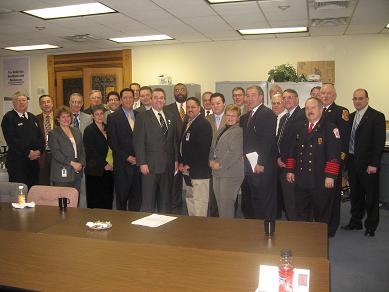 Speaker of the House Jim Amann (D-Milford) and 14 members of the House Democratic caucus welcomed representatives of the Joint Council of Connecticut Fire Service Organizations on Tuesday, January 23, 2007 to the State Capitol for a legislative breakfast.
Rep. Amann urged the group to advocate with a unified voice and develop relationships among Democrats and Republicans in the House and Senate. "Firefighters are critical first responders in every town," the Speaker said. "That's a powerful message and an ideal grassroots opportunity." Also discussed was the desire of the Joint Council to see the General Assembly establish a bi-partisan Fire Service Caucus within Connecticut's Legislature.
Rep. Amann is a co-sponsor of proposed House Bill No. 6338, An Act Concerning Increased Funding for Fire Service Training, which if passed would fund entry-level training for volunteer, career and state agency fire departments in order to boost and standardize firefighter training statewide.
Other House Democrats attending the breakfast were:
Rep. Andres Ayala (D-Bridgeport)
Rep. Betty Boukus (D-Plainville)
Rep. Don Clemons (D-Bridgeport)
Rep. Linda Gentile (D-Ansonia)
Rep. Tony Guerrera (D-Rocky Hill)
Rep. Bryan Hurlburt (D-Tolland)
Rep. Claire Janowski (D-Vernon)
Rep. Tom Kehoe (D-Glastonbury)
Rep. Russ Morin (D-Wethersfield)
Rep. Frank Nicastro (D-Bristol)
Rep. Peter Panaroni (D-Branford)
Rep. Tom Reynolds (D-Gales Ferry)
Rep. Kelvin Roldan (D-Hartford)
Rep. Elissa Wright (D-Noank)