GOVERNOR ROWLAND URGES SUPPORT FOR FIRE TRAINING FACILITIES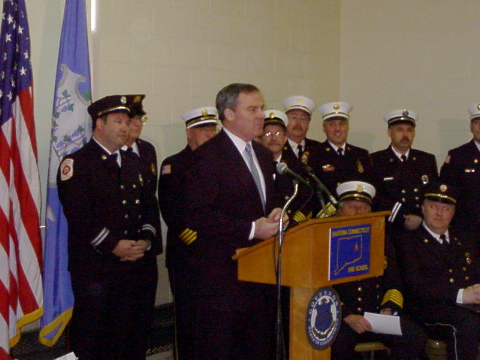 Governor John Rowland today joined key lawmakers to urge legislative support for new funding to renovate and repair Connecticut's regional fire training facilities. The fire training centers are located throughout the state and serve as the primary live fire training grounds for more than 30,000 paid and volunteer fire fighters.
Governor Rowland is proposing a total of $20 million be included in the state bond package over the next two years to begin to pay for the upgrade of all eight training centers. The proposal would provide $10 million in each of the next two years. Additional funding will be necessary in subsequent years.
"These fire training centers are the key component to our statewide training program for fire fighters. They have been allowed to operate without the benefit of proper upgrade for a number of years. This proposal will allow us to begin renovations at several locations," Governor Rowland said. "We all understand how important it is to provide the best possible training to our first responders. I expect that this proposal will gain wide support in the Legislature."
Fire training schools are located in Windsor Locks, New Haven, Willimantic, Burrville, Wolcott, Derby, Middletown and Fairfield. Each location provides fire fighters with basic training and annual retraining. Each facility has structures that can be used to create live fire exercises that simulate what fire fighters would encounter in the field.
It is expected that this $20 million improvement package will be included in this year's budget adjustment.