Chemical Tank Car Donation Recognition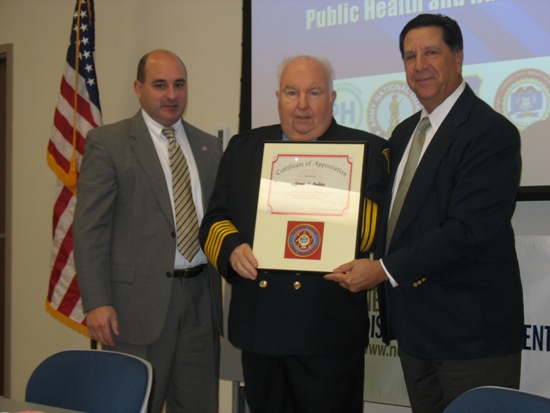 The Commission on Fire Prevention and Control at their November 30, 2010 meeting formally recognized and extended thanks and appreciation to James Belote former volunteer chief officer with the Ridgefield (CT) Fire Department and current Executive Board member with the Connecticut Fire Police Association for the significant role he played in securing the donation of a chemical tank car from Dow Chemical in addition to its transportation by Norfolk Southern Railroad from Louisiana. The tank car's new home is at the New England Disaster Training Center (NEDTC) at Camp Hartell in Windsor Locks and will be used in several Connecticut Fire Academy programs including Hazardous Materials Technician, Rescue Technician and Fire Officer Training. "Jim truly exemplifies what makes the fire service great. His passion for training, education and helping others was his motivation. He worked tirelessly and at his own expense to make this happen." stated State Fire Administrator Jeff Morrissette.
From left to right in the photo are Jeffrey Morrissette, State Fire Administrator; James Belote and Peter Carozza, Chairman.