Commission on Fire Prevention and Control receives donation of Honda alternatively fueled vehicle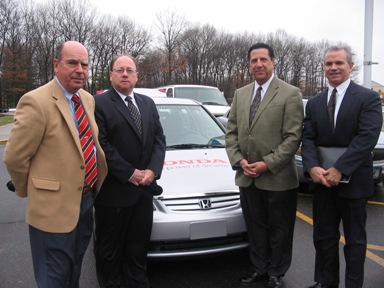 At their January 31, 2006 meeting, the Commission on Fire Prevention and Control received the donation of a 2001 Honda Civic GX fueled by compressed natural gas. The vehicle will be used exclusively for firefighter training at the Connecticut Fire Academy. Representing American Honda Motor Company Inc. were Roger Quandt, Assistant Zone Manager for Honda, John Larabee, Founder and President of Manchester Honda, and Craig Peters from Manchester Honda. Representing the Commission was Chairman Peter Carozza, Jr. Manchester Honda is the area Honda dealer certified for compressed natural gas powered vehicle repairs,
This vehicle will be a valuable asset to the Connecticut Fire Academy in demonstrating safety concerns associated with alternatively fueled vehicles during firefighter training scenarios. It is anticipated that the vehicle will be used in the recruit firefighter program, car fire, vehicle extrication, and alternatively fueled vehicle classes. The future promises more vehicles fueled by other alternative fuels like hydrogen, stored and regenerated electricity, and fuel cells. Firefighters will learn how to extinguish fires and safely remove occupants from vehicles powered nontraditionally.