Pollinator Information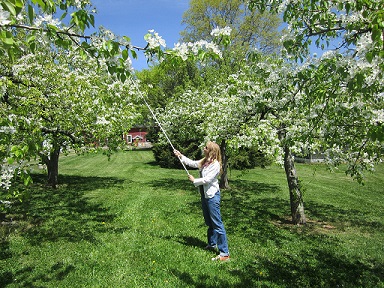 ---
4th Annual Creating and Improving Pollinator Habitat Conference
Pollinator Habitat Conference 2019 Flyer
Registration: https://squareup.com/store/connecticut-agricultural-experiment-station
Pollinator Habitat Conference 2019 Schedule
---
The health and diversity of pollinators has in recent years become a concern on the local, state, national and international levels. Pollinators are essential to human nutrition and to the survival of natural ecosystems – it has been estimated that 75% of human food crops need animal pollination to produce their full yield potential (Klein et al. 2007) and that 87% of flowering plants in natural systems are pollinated by animals (Ollerton et al. 2011).
Many kinds of animals are pollinators, including hummingbirds, butterflies, moths, beetles, flies and wasps as well as bees, but this website focuses mainly on bees because they are the most important pollinators of crops in our state, and they are also the focus of recent concerns.
The health of honey bees is important to beekeepers for production of honey and wax and to farmers and gardeners for their pollination services. Honey bees have been under serious stress in Connecticut since the arrival of parasitic mites in the state in the late 1980s, but other factors, such as viruses and other pathogens, exposure to pesticides, and the decrease in open flowering meadows for bee forage, may also be contributing to the colony losses experienced by beekeepers.
Current records of bees collected in the state include 348 other species of bees in addition to honey bees. These include 16 species of bumble bees and hundreds of species in other genera less familiar to the general public. Many species of bumble bees and other bees are important pollinators of crop plants, and most bees in all families are pollinators of native plants (although there are some bee species in several families that live as parasites in the nests of other bees).
Important losses in species diversity of bumble bees have been documented here in Connecticut, across North America, and around the world. In Connecticut, two bumble bee species are considered likely to have been extirpated from the state and another is considered threatened, according to the Connecticut Department of Energy and Environmental Protection. Because other species of bees have not been as intensively monitored, their current status is unknown.
The Connecticut Agricultural Experiment Station has responsibility for the state honey bee registration and inspection program (link to Beekeeper Information and Registration here: https://www.ct.gov/caes/cwp/view.asp?a=2818&q=376964#Beekeeper) and also has active research and public information programs on plants used as sources of nectar and pollen by bees, pollination of crop plants such as pumpkin and winter squash, routes and levels of exposure of bees to pesticides, and the diversity of bees in Connecticut.
A new law concerning pollinator health was enacted by the state of Connecticut in the 2016 legislative session. This Public Act (16-17) or https://www.cga.ct.gov/2016/ACT/pa/pdf/2016PA-00017-R00SB-00231-PA.pdf does the following:
Puts some restrictions on the neonicotinoids insecticides that are most highly toxic to bees
Creates a Pollinator Advisory Committee from the staff of the Experiment Station
Requires a study of the Varroa mite attacking honey bees and an evaluation of the possibilities of breeding bees resistant to the mites
Requires the Experiment Station to create a citizen's guide to model pollinator habitat
Promotes establishment of pollinator habitat by various state agencies and by utilities
Sets qualifications for the state apiary inspector
Pursuant to Section 5 of Public Act No. 16-17 "An Act Concerning Pollinator Health" the following individuals have been appointed to a "Pollinator Advisory Committee".
Dr. Richard Cowles (CAES)
Mr. Mark Creighton, State Beekeeper (CAES)
Mr. Nelson DeBarros (DEEP)
Dr. Kirby Stafford III, State Entomologist (CAES)
Dr. Kimberly Stoner (CAES)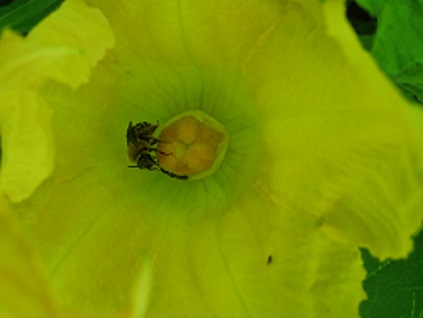 Factsheets: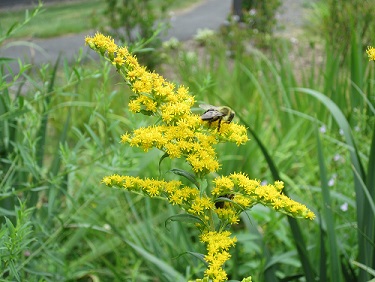 Materials from the Conference, Creating and Improving Habitat for Pollinators, 2018
Materials from the Conference, Creating and Improving Habitat for Pollinators, 2017
Materials from the Conference, Successfully Establishing Plants for Pollinators
Pollinator Information and Sources of Funding for Pollinator Habitat from the Connecticut Office of the Natural Resources Conservation Service:
General information on pollinators and the value of pollination:
http://www.nrcs.usda.gov/wps/portal/nrcs/detailfull/national/plantsanimals/pollinate/?cid=stelprdb1142695
Cost share programs that provide funding toward pollinator habitat:
Environmental Quality Incentives Program:
http://www.nrcs.usda.gov/wps/portal/nrcs/detail/ct/programs/financial/eqip/?cid=nrcs142p2_011038
Conservation Stewardship Program:
http://www.nrcs.usda.gov/wps/portal/nrcs/main/ct/programs/financial/csp/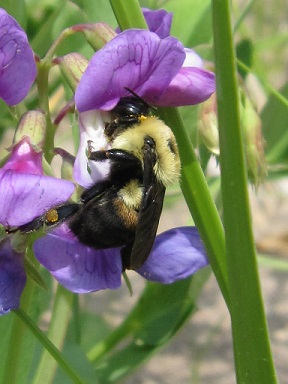 Links to Publications of Jarrod Fowler, Xerces
Cover Cropping for Pollinators and Beneficial Insects:
http://www.sare.org/Learning-Center/Bulletins/Cover-Cropping-for-Pollinators-and-Beneficial-Insects
Technical Publications:
Stoner, K., Eitzer, B., Cowles, R. 2017. Quantifying Exposure of Bees to Neonicotinoids in Nectar and Pollen of Nursery Plants.
Stoner, K.A. 2016. Current Pesticide Risk Assessment Protocols Do Not Adequately Address Differences Between Honey Bees (Apis mellifera) and Bumble Bees (Bombus spp.). Front. Environ. Sci. doi: 10.3389/fenvs.2016.00079
Link: http://journal.frontiersin.org/article/10.3389/fenvs.2016.00079/full
Stoner, K. A., & Eitzer, B. D. (2013). Using a Hazard Quotient to Evaluate Pesticide Residues Detected in Pollen Trapped from Honey Bees (Apis mellifera) in Connecticut. PloS One, 8(10). e77550. doi:10.1371/journal.pone.0077550
http://www.plosone.org/article/info%3Adoi%2F10.1371%2Fjournal.pone.0077550 (This includes data on pesticide residues in bee pollen from trapping pollen from hives in urban, suburban, mixed agricultural and suburban, and rural sites in the state).
Stoner K.A., B.D. Eitzer, 2012. Movement of Soil-Applied Imidacloprid and Thiamethoxam into Nectar and Pollen of Squash (Cucurbita pepo). PLoS ONE 7(6): e39114. doi:10.1371/journal.pone.0039114. http://dx.plos.org/10.1371/journal.pone.0039114
Zarrillo, T.A, J.S. Acher, J. Gibbs, and K.A. Stoner. 2016. New and noteworthy records of bees (Hymenoptera: Apoidea: Anthophila) for Connecticut. J. Kansas Entomological Society 89:138-157.
Link:https://www.researchgate.net/profile/Jason_Gibbs2/publication/305890985_New_and_Noteworthy_Records_of_Bees_Hymenoptera_Apoidea_Anthophila_for_Connecticut/links/57a4d33d08aee07544b5b7da.pdf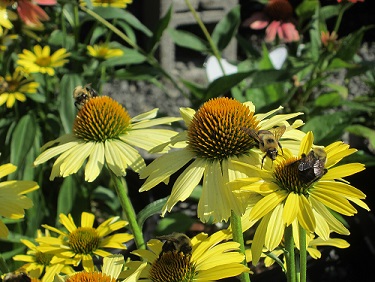 Additional Resources:
Connecticut Bombus Guide (PDF Format)
Pictorial Key to Female Bumble Bees of Connecticut-- Elaine Evans (used with permission) (PDF Format)
Pictorial Key to Male Bumble Bees of Connecticut-- Elaine Evans (used with permission) (PDF Format)