Slopers Pond, Southington - 2010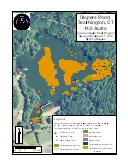 Slopers Pond is located in Southington, CT. It is 14.8 acres with a YMCA summer camp located on its shore. There are two designated swimming areas. A majority of the pond is surrounded by forest with no private residents.
The CAES IAPP 2010 survey found seven species growing in the lake, five native aquatic plants and two invasive aquatic plants. The two invasive plants are Potamogeton crispus and Najas minor. P. crispus was found in four small patches on the south eastern shore. It was found occurring with Ceratophyllum demersum, Potamogeton pusillus, and Potamogeton amplifolious. Najas minor was found along the western, southern, and southeastern shorelines. It was found occurring in small to medium sized patches growing primarily with P. amplifolious and P. pusillus.
C. demersum was the most dominant plant in the Slopers Pond. Three very large patches were found across the middle of the pond into the western cove. No other species were occurring with the two patches in the middle of the pond. The western cove found occurrences of Lemna minor, P. pusillus, P. amplifolious, and P. crispus along with the C. demersum. A few medium sized patches of P. pusillus were found in the southern cove and along the southeastern coast. Three small patches of P. amplifolious were found occurring alone in the northern cove. Along the northern coast an area of C. demersum, P. amplifolious, and P. pusillus was found without any one species dominating.
Species recorded in our 2010 survey of Slopers Pond . Click on plant to view herbarium mount. (Invasive species in bold)
Eleocharis sp.
Lemna minor
Potamogeton crispus
---
*NOTE: Some of these documents are provided in Adobe® Acrobat® (.pdf) format. In order to view or print these documents you need Adobe® Reader®. If you do not have Adobe® Reader®, click the "Get Adobe® Reader®" image for a free copy.