Private Pond - Bowen, East Haddam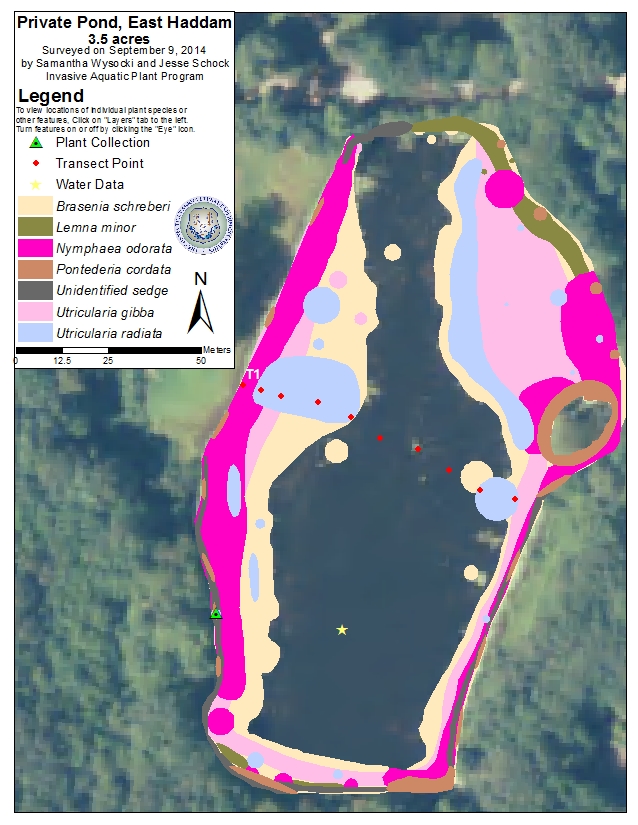 2014 Aquatic Plant Survey of Private Pond, East Haddam

(707 KB, .pdf format*)
Transect Data (95 KB, .pdf format*) | Water Data
CAES IAPP surveyed a private pond located on a private residence in East Haddam CT in 2014. The pond is surrounded by a wetland, trees and a couple of houses. Several native species were present mostly along the shore line and in shallow areas of the lake. These plants included lily pads; Brasenia schreberi and Nmphaea odorata, two species of bladderwort Utricularia gibba and Utricularia radiata as well as some common shore line plants Pontederia cordata and sedges.
(65 KB, .pdf format*)
Species recorded in our 2014 survey of Private Pond. Click on plant to view herbarium mount. (invasive species in bold)
Lemna minor
Unidentified sedge
---
*NOTE: Some of these documents are provided in Adobe Acrobat (.pdf) format. In order to view or print these documents you need Adobe Reader. If you do not have Adobe Reader, click the "Get Adobe Reader" image for a free copy.