Michael P. Last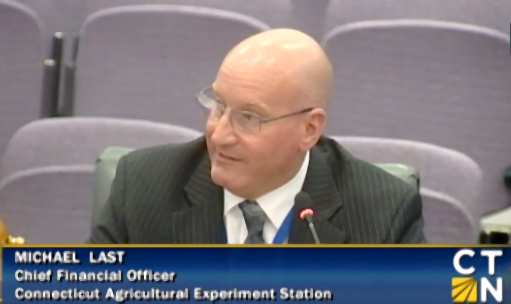 Chief Financial Officer
The Connecticut Agricultural Experiment Station
123 Huntington Street
P.O. Box 1106
New Haven, CT 06504-1106
Voice (203) 974-8442 Fax (203) 974-8502
E-mail Michael.Last@ct.gov
---
Responsibilities:
Michael Last is the Chief Financial Officer at The Connecticut Agricultural Experiment Station. He is responsible for the agency budget, accounting, grants, personnel, payroll, information technology, physical plant, and capital projects. Michael also serves as the agency's Ethics Liaison Officer, Freedom of Information Officer, ADA Compliance Officer, and is the Attorney General's Designee for Affirmative Action.
Education:
Michael is a West Haven resident, graduated from Notre Dame High School, and received a Bachelor of Science degree in financial accounting from the University of New Haven in 1988. He is married with two children.
Career:
Michael joined the Experiment Station in 1996 from the Office of the State Treasurer. He began his career with the State of Connecticut in 1989.
Organizations:
Michael is involved in many community groups and organizations including his volunteer service as the President of the West Haven Pop Warner Football and Cheerleading League.