MaryJane Incorvia Mattina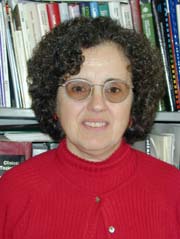 Department of Analytical Chemistry
The Connecticut Agricultural Experiment Station
123 Huntington Street
New Haven, CT 06511
Fax: (203) 974-8502
E-mail: MaryJane.Mattina@ct.gov
---
Education:
B.A., Barnard College
Ph.D., Yale University
Station career:
Assistant Scientist, Department of Analytical Chemistry, 1988-1990
Associate Scientist, Department of Analytical Chemistry, 1990 -1992
Head, Department of Analytical Chemistry, 1992-2009
Emeritus Scientist, Department of Analytical Chemistry, 2009-current
Service activities:
Our laboratory is frequently requested by other state and municipal agencies to assist in the analysis of unusual samples. I have coordinated and overseen these analyses. Our laboratory has unique capability among state facilities in the conduct of a sizeable portion of this work
Research activities:
In the past my research has centered on techniques in Analytical Chemistry, especially mass spectrometry, for solving a range of analytical problems. More recently my research has focused on the cycling of persistent organic pollutants, such as dioxins, PCBs, DDT, and chlordane, from one environmental compartment to another. This research has led naturally into issues associated with phytoremediation, the attenuation of environmental pollution based on the use of plants. We have focused in particular on highly aged residues of chlordane in soil, and have applied new analytical techniques for its qualitative and quantitative determination in matrices such as soil and plant tissues. We have received competitive grant funding for our studies to date and are moving into investigations on potential mechanisms of uptake and transport of the contaminants in plants, with particular emphasis on certain plant members of the Cucurbitaceae family. Our perspective on this issue is unique and we are engaging in significant collaborations with scientists outside our institution to compliment the expertise within The Experiment Station.
Selected publications available from author, MaryJane.Mattina@ct.gov
B. D. Eitzer, W. Iannucci-Berger, M. J. I. Mattina. Volatilization of Chlordane from Weathered Soil Residues. Environ. Sci. Technol., (2003).
W. Y. Lee, W. A. Iannucci-Berger, B. D. Eitzer, J. C. White, M. J. I. Mattina. (2003). Plant Uptake and Translocation of Air-borne and Comparison with the Soil-to-Plant Route. Chemosphere, 53, 111-121.
M. J. I. Mattina, W. A. Iannucci-Berger, C. Musante, J. C. White. (2003). Concurrent Plant Uptake of Heavy Metals and Persistent Organic Pollutants from Soil. Environ. Pollut., 124, 375-378.
J. C. White, M. J. I. Mattina, W-Y. Lee, B. D. Eitzer, W. Iannucci-Berger (2003). Role of Organic Acids in Enhancing the Desportion and Uptake of Weathered p,p'-DDE by Cucurbita pepo. Environ. Pollut., 124, 71-80.
W. Y. Lee, W. A. Iannucci-Berger, B. D. Eitzer, J. C. White, M. J. I. Mattina. (2003). Persistent Organic Pollutants in the Environment: Chlordane Residues in Compost. J. Environ. Qual, 32, 224-231.