Israel Zelitch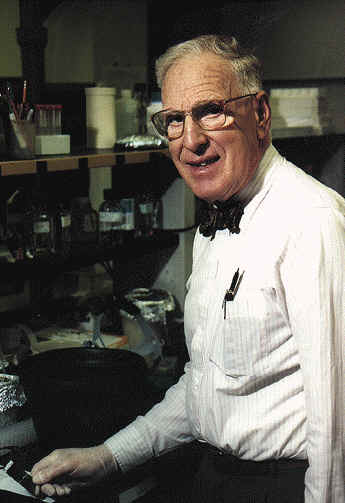 Department of Plant Pathology and Ecology
The Connecticut Agricultural Experiment Station
123 Huntington Street
New Haven, CT 06511
Fax: (203) 974-8502
E-mail: Israel.Zelitch@ct.gov
---
Expertise:
Dr. Zelitch was trained in biochemistry and physiology with an emphasis on the enzymatic reactions of photosynthesis. He has extensive experience with measurements of gas exchange and light utilization. His recent work involves various techniques of molecular biology including construction of transgenic plants.
Education:
B.S. Agricultural and Biological Chemistry, Pennsylvania State University, 1947
Ph.D, Biochemistry, University of Wisconsin, 1951
National Research Council Postdoctoral Fellow, NYU College of Medicine, 1951-1952
Station career:
Assistant Biochemist, 1952-1954
Associate Biochemist, 1954-1960
Biochemist, 1960-1963
Head, Department of Biochemistry, 1963-1994
Samuel W. Johnson Distinguished Scientist, 1974
Emeritus Scientist, 1994-present
Other positions:
Adjunct Professor, Yale University, Department of Molecular Biophysics & Biochemistry, 1958-; Department of Biology, 1979-
Professional experience:
Guggenheim Fellow, University of Oxford, England, 1960
Fellow, American Association for the Advancement of Science, 1976
Chairman, Gordon Research Conference, "CO2 Fixation by Green Plants", 1979
Fellow, American Academy of Arts and Sciences, 1980
Fulbright Distinguished Professor, Yugoslavia, 1981
Lecturer, Workshop on Trends in Photosynthesis Research, Majorca, Spain, 1990
Lecturer, US-Russia Workshop on Photosynthesis, Puschino, Russia, 1992
Memberships:
American Society of Plant Physiologists (now American Society of Plant Biologists)
American Society for Biochemistry & Molecular Biology
American Chemical Society
Phi Beta Kappa
American Society of Plant Physiologists: Executive Committee, 1973-1976, President, 1977-1978
Editorial Board, Archives of Biochemistry and Biophysics, 1969-1977
Editorial Board, Plant Physiology, 1964-1978
Editorial Board, Annual Review of Plant Physiology, 1969-1974
Past research:
Dr. Zelitch characterized key enzymes of the glycolate pathway of photorespiration in C3 plants. He carried out extensive work on increasing photosynthetic efficiency in C3 plants through biochemical and genetic regulation of photorespiration.
Current research:
His current work involves manipulation of photosynthetic metabolism through genetic regulation of leaf catalase levels. He has cloned the catalase gene and generated a collection of transgenic plants with elevated and reduced levels of this key enzyme and analyzed the effect on photosynthesis.
Selected publications available from the author, Israel.Zelitch@ct.gov
Zelitch I., E. A. Havir, B. McGonigle, N. A. McHale, and T. Nelson. 1991. Leaf catalase mRNA and catalase-protein levels in a high-catalase tobacco mutant with O2-resistant photosynthesis. Plant Physiol 97:1592-1595
Zelitch, I. 1992. Factors affecting expression of enhanced catalase activity in a tobacco mutant with O2-resistant photosynthesis. Plant Physiol 98: 1330-1335
Schultes, N. P., I. Zelitch, B. McGonigle, and T. Nelson. 1994. The primary leaf catalase gene from Nicotiana tabacum and Nicotiana sylvestris. Plant Physiol 106: 399-400
Havir E. A., Brisson L. F., and Zelitch I. 1996. Distribution of catalase isoforms in

Nicotiana

tabacum.

Phytochem 41:699-702
Brisson L. F., Zelitch I., and Havir E. A. 1998. Manipulation of catalase levels produces altered photosynthesis in transgenic tobacco plants. Plant Physiol 116:259- 269
Zelitch I. 2001. Travels in a world of small science Photosynthesis Res 67:157-176

Zelitch I., N. P. Schultes, R. B. Peterson, P. Brown, and T. P. Brutnell. 2009. High glycolate oxidase activity is required for survival of maize in normal air. Plant Physiol 149: 195-204