Meet Chris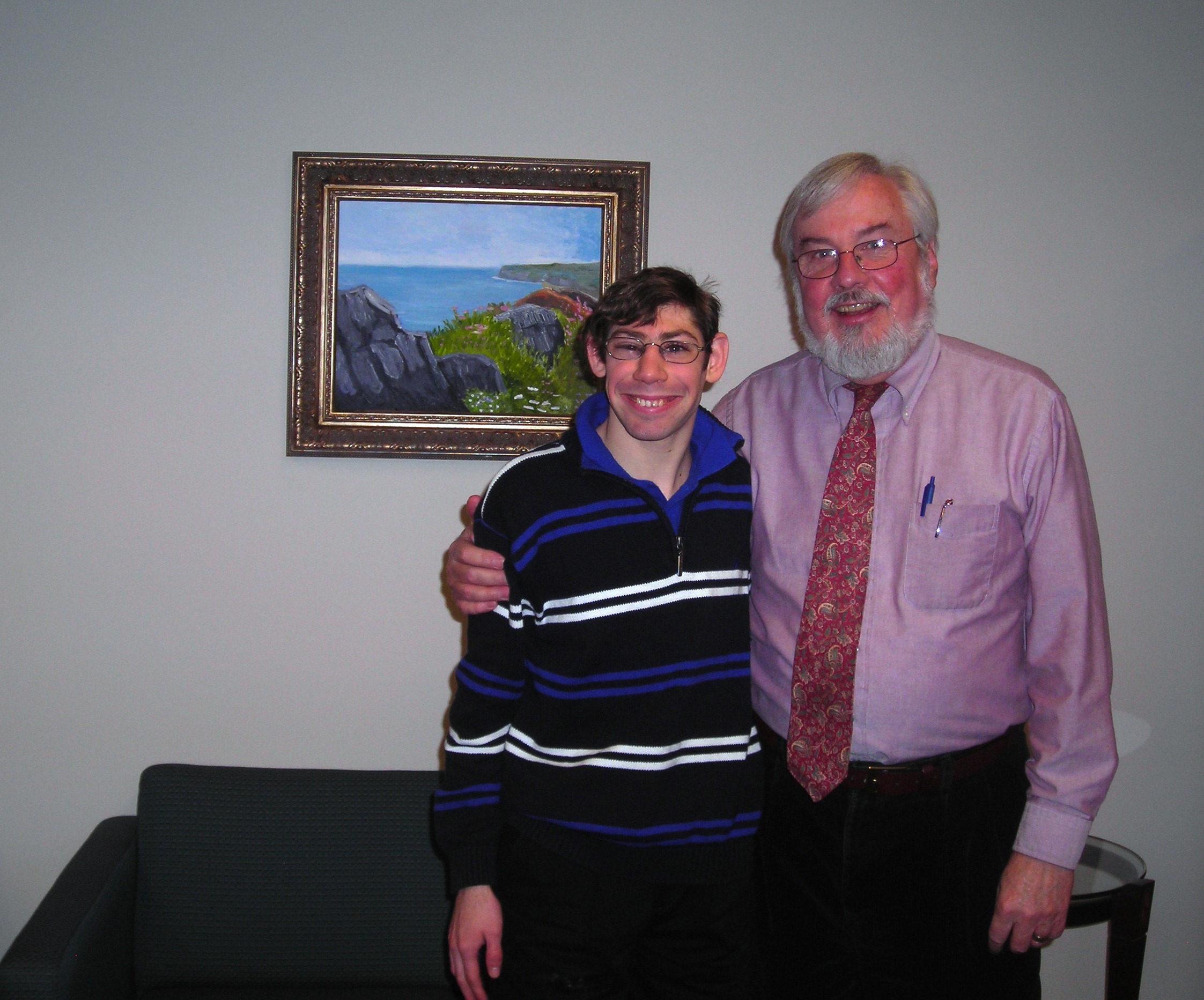 Meet Christopher, a 23-year-old young man, who has found his passion through his paint brush. He recently visited Department of Developmental Services (DDS) Commissioner Terrence W. Macy, Ph.D. in his office in Hartford. One of Christopher's paintings hangs in the office. This article was written by his family.

Joy, concentration, and achievement describe Christopher as he paints. His ability to paint was discovered during high school by his dedicated and innovative art teachers. While he has won an outside juried art award for his ceramics, Chris has a passion for painting, mostly from family photographs using the medium of oil.
Chris is an individual with special needs who has delays in the motoric and mental domains. When you look at his paintings, you could never tell that he spent years learning to print as a young person. Chris' patient, small brushstrokes reveal his attention to detail, and his color choice draws the viewer into his pieces.
Christopher graduated from Hall High School in West Hartford in 2007 and from the WAAVE program in 2010. He enjoyed all of his art classes while at Hall. Upon graduating from Hall, Chris started taking classes at the West Hartford Art League. He has participated in student shows at both venues. He has painted in acrylic, watercolor and oil. He prefers oil for its ease of blending and correction of mistakes. His works vary in size, but are primarily 16 x 20 inch or 11 x14 inch canvasses. He has tackled the subjects of still life, portrait and landscape painting. He has found that he loves to paint landscapes. Seascapes and sunsets are emerging as favorite subjects. He likes them as no two ever look the same—even from the same perspective.
In July 2011, Chris made his professional art debut at the Florence Griswold Museum in Old Lyme, Connecticut. He was asked to kick-off an exhibit of his original paintings for sale at the museum's Midsummer Festival. He sold several paintings, prints and cards. His work has been very well received and the museum continues to sell his art and he will be featured at this year's festival. In addition, he has pieces in the show at the Kerri Gallery in Willimantic and he is working on mounting a solo show for Spring 2012. His cards are being picked up for sale in a major boutique retailer and should be in the stores in a few weeks.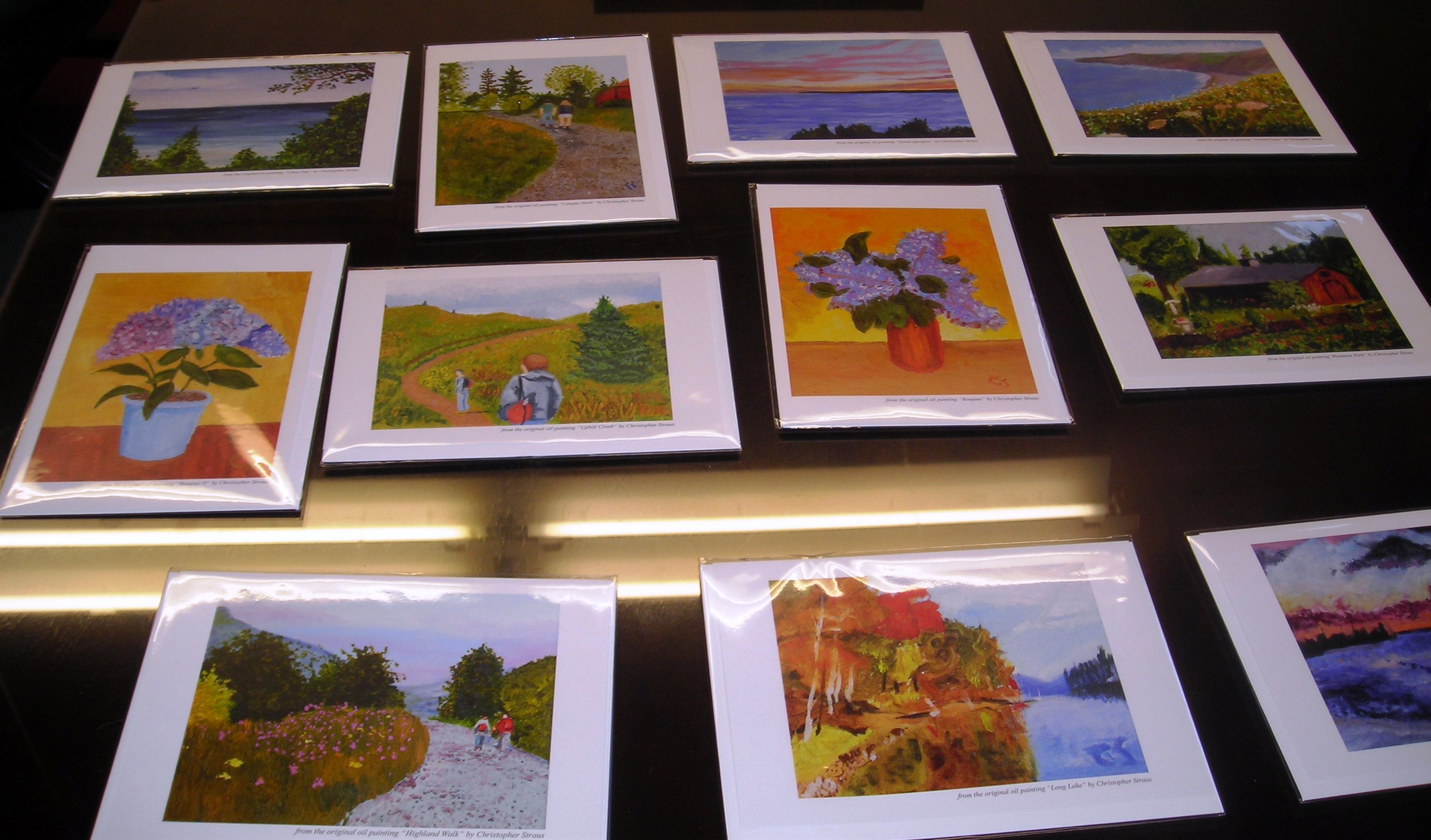 Chris loves to talk about his art and he loves going to class and painting. His skills, perspective and style continue to evolve as he continues to become more independent with process by even taking the photographs from which he paints. He looks forward to expanding his business with a website soon and he is proud of being able to hire his peers at the FAVARH volume mail service to package his cards. Chris currently works at Michael's Arts and Crafts in Avon, CT. He is proud of working where his original paintings are framed.
In addition to his painting, sports have played an important part of Chris' life. He has earned varsity letters in cross country and track in high school and continues to run and ski. He has earned gold medals at the state level in Special Olympics. Tenacity in learning to write, paint and run well have all been challenges of which Chris' parents were told were way beyond his capacity. His paintings prove his desire to master tasks and to enjoy life.
Outdoor sports and adventures are something Chris likes. He skis, hikes, runs, swims and loves to camp around the fireside. He is an avid fan of professional baseball and football. When not painting he enjoys working, visiting museums and volunteering at church.