Electric Boat 'Hiring Frenzy' Gives Economic Boost To Southeastern Connecticut
The Hartford Courant
By Stephen Singer
July 16, 2017
Nearly complete, the USS South Dakota faces west from the cavernous construction hall of Electric Boat, as if ready to be pushed into the Thames River and out to Long Island Sound and the Atlantic Ocean beyond.
On a recent afternoon, workers behind three-story high staging were welding together modules and connecting piping and cable systems to form the submarine that will be home to a crew of about 130.
The din of grinding, drilling and pounding signals the front edge of a wave of thousands of workers to be hired to build two submarines a year, delivering a powerful boost to southeast Connecticut's economy. With more than $8 billion for submarine design and construction for years to come moving in legislation in
Congress
— the measure passed the House Friday — retail, real estate and other businesses are anticipating a strong impact.
"It's going to be huge," Debra Chamberlain, a real estate agent at William Raveis in Mystic and former president of Connecticut Realtors, a statewide industry group, said of expected home sales. "We were the last one in the downturn and we'll be the last one out."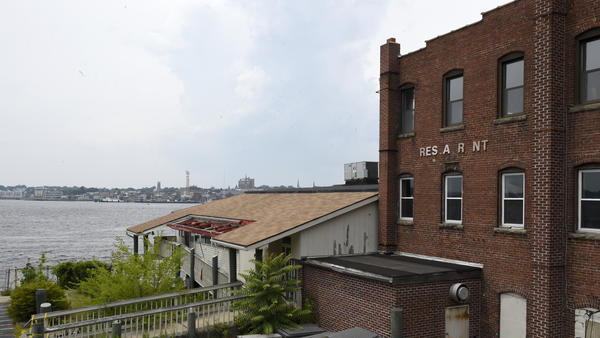 Some businesses and restaurants in Groton have closed or are struggling to survive but as
Electric Boat hires thousands of workers to keep up with U.S. Navy demand for submarines,
driving economic growth not seen in most of the rest of the state many hope a revival will
take place. (John Woike / Hartford Courant)
Dorothy Streeter, owner of Ken's Tackle Shop in Groton, said business has been "pretty decent" and in conversations with customers, she sees more EB workers. "They seem to be coming from all over the country," she said.
In southeastern Connecticut, where global military strategy is local, the construction of two submarines a year has been an elusive prize for years when just one submarine was built annually. A third is now being designed as production is planned for the new Columbia class.
Submarines are getting new attention as Congress and the Pentagon look for ways to face down threats from China, Iran and Russia. Undersea warfare had been sidelined by drones and helicopters that fought U.S. wars in Afghanistan and Iraq.
"We have so many man-hours," Bob Saran, a 37-year painter at EB, said as he recently headed in for the second shift at the Groton boatyard. "They're pushing people."
Faced with demand to build more submarines and replace retiring baby boomers, EB is halfway to its goal of hiring 2,000 workers this year, with about 1,200 split evenly between Groton and Quonset Point, R.I.
To account for attrition and new work, EB, which now employs more than 15,000 workers, will need to hire between 14,000 and 20,000 to reach 18,000 employees by 2030.
In Connecticut, which is muddling through a slow-growth economy and lackluster job expansion, state officials are welcoming a manufacturing trifecta expected in the coming years: submarine construction at Electric Boat, a ramp-up at
Lockheed Martin Corp.'s
Sikorsky to build heavy-lift Navy helicopters in Stratford and Pratt & Whitney, the jet engine subsidiary of
United Technologies Corp
., which is working through a backlog of orders to meet demand for commercial aircraft.
Housing Picks Up
Among the most frequently cited benefits of Electric Boat hiring is rising home sales and rental housing construction.
Expectations had been lowered after the housing crash that ushered in the recession, Chamberlain said. EB engineers are buying homes in the $200,000 to $300,000 range, significantly less than the $700,000 homes bought by higher paid Pfizer Inc. researchers, she said. In a shift by Pfizer, many jobs have left for Cambridge, Mass.
Still, competition is picking up among buyers vying for houses.
"What we're seeing is the return of the multiple bid," Chamberlain said.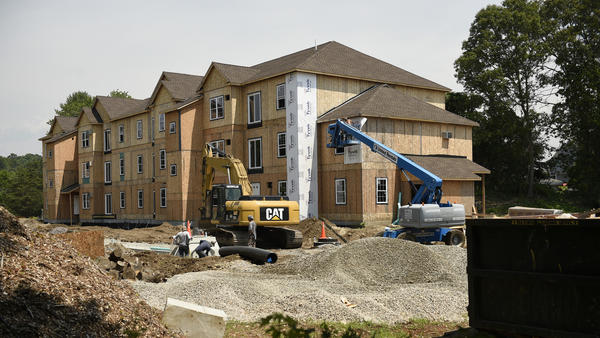 Long Meadow Landings, an apartment complex in Groton, is building an additional 22 rental
units. In eastern Connecticut, global military strategy is local as Electric Boat hires thousands
of workers to keep up with U.S. Navy demand for submarines, driving economic growth not
seen in most of the rest of the state. (John Woike / Hartford Courant)
In New London County, 312 single-family homes sold in May, up 20 percent from May 2016, according to the Eastern Connecticut Association of Realtors. The median price was $223,750, a 3 percent increase.
And homes were snapped up more quickly, staying on the market 67 days on average, down from 90 in May 2016, the realtors group said.
New London issued 178 more residential and commercial building permits in the 2016-2017 budget year over the previous year.
In Groton, several housing projects are in the works: an apartment building with 22 units under construction, permits for construction expected soon for a 19-unit town house rental complex and planning approval granted for construction of 147 rental units in three buildings.
Kevin Quinn, Groton's manager of inspection services, credits EB's hiring of "a lot of young engineers" who prefer to rent than own.
Kris Ruetz, a test engineer at EB, and his girlfriend chose from a wide-open housing market and bought a Norwich home with 5 acres. They looked from Westerly, R.I., to Old Saybrook "and everywhere in between," he said.
"I felt it was a buyer's market," said Ruetz, who moved from Holland, Mich., and a job at a nuclear plant set to close next year. "We had a lot to pick from."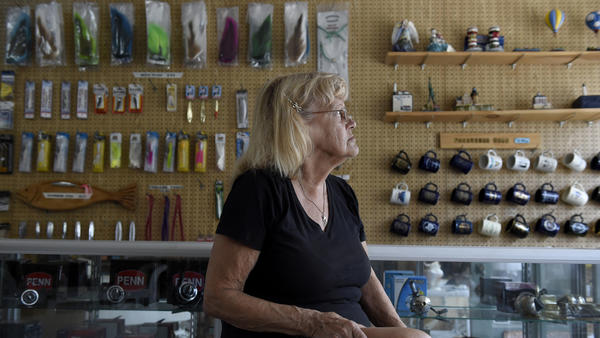 Dorothy Streeter, owner of Ken's Tackle, just down the road from Electric Boat in Groton has
survived because she offers something that most of the box stores in the area do not, good
local advice. In eastern Connecticut, global military strategy is local as Electric Boat hires
thousands of workers to keep up with U.S. Navy demand for submarines, driving economic
growth not seen in most of the rest of the state. (John Woike / Hartford Courant)
'Hiring Frenzy'
Mark Oefinger, Groton's recently retired town manager, said the region benefits from the certainty that comes with Navy planning calling for an increase in attack submarines to 66 from 48 and production, unchanged, of 12 ballistic missile submarines.
"There are very few businesses in the world that can tell you with some assurance what it will be doing in 10 or 20 years," he said.
Electric Boat has already been on a "hiring frenzy," he said. It's been staffing a former Pfizer campus in New London, which houses 3,000 engineers and designers for the Columbia.
To train workers ready to be hired by EB and small manufacturers a network of vocational schools and colleges has organized worker recruitment, education and training programs.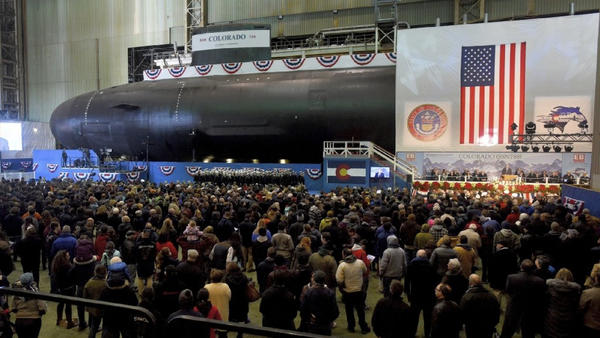 Hundreds gather as General Dynamics Electric Boat hosts a christening ceremony in Groton
for the USS Colorado, the 15th in the Virginia class of attack submarines, each costing
$2.7 billion. (Tim Cook/The Day via AP)
The Eastern Connecticut Manufacturing Pipeline, a state-federal labor partnership to train manufacturing workers, has drawn nearly 4,000 responses, or more than eight times the 450 slots available over three years for manufacturing training, said John Beauregard, president of the Eastern Connecticut Workforce Investment Board.
Unemployed or underemployed workers are taking an interest in training in machining, pipefitting, welding and other vocations, he said.
Sharon Hansen, an unemployed financial analyst experienced in woodworking and car maintenance, is switching careers and studying at Quinebaug Valley Community College's manufacturing technology center in a program intended to prepare students for EB. She was one of eight students at a recent introductory class on metrology, the study of measurement, and reading blueprints.
"To stay here," the Niantic resident said, 'you've got to reinvent yourself or move. It's time for me to reinvent myself."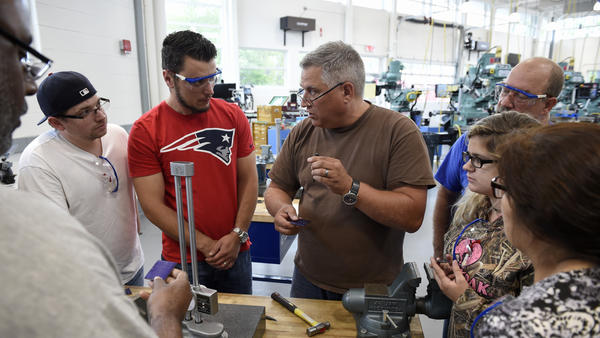 Michael Santangini (C) has been a tool maker for 33 years and for the last 6 he has been
a teacher at the Advanced Manufacturing Center at Quinebaug Valley Community College.
In eastern Connecticut, global military strategy is local as Electric Boat hires thousands of
workers to keep up with U.S. Navy demand for submarines, driving economic growth not
seen in most of the rest of the state, students in this program will be eligible to work at
Electric Boat. (John Woike / Hartford Courant)
Despite the emphasis on shipbuilding, workforce training funding would be cut in President Trump's proposed budget, according to Connecticut's congressional delegation. Three national programs budgeted at nearly $2.7 billion is jeopardized by a proposed 40 percent reduction.
"We should be expanding that type of investment," said Rep. Joe Courtney, whose district includes Electric Boat.
Courtney, a Democrat, expects "tremendous amount of pushback" in Congress against cuts in spending for training. "Eastern Connecticut isn't the only place where they're seeing a boost in manufacturing demand," he said.
Hiring to fill manufacturing jobs has not been easy. Robert A. Mongell, president and chief executive officer of Micro Precision Group, an Electric Boat supplier in South Windham making equipment that pressurizes ships, said hiring to add to his 70 workers is difficult.
Aerospace is going through a similar boom and is "soaking up a lot of people," Mongell said. Electric Boat, too, is a big competitor for skilled labor.
And the loss of manufacturing jobs in Connecticut — down 16 percent from before the start of the recession, to about 156,000 — has prompted young people to pursue other professions, he said.
"It's been a generation that's been lost," Mongell said.
The Norwich-New London labor market is growing as the state's economy gradually improves. Between May 2016 and last May, the most recent month for which statistics are available, employment increased 2.1 percent, or more than 2,500, to 122,058 jobs. It was a modest increase, but the area's unemployment rate fell sharply, to 4.8 percent in May from 6.9 percent in 2014.
In the local economy that includes other industries such as tourism and the casinos, durable goods manufacturing accounts for a "good chunk" of employment, said Andy Condon, research director at the state Department of Labor.
"Eastern Connecticut has been perhaps the hardest hit in the recession," he said. "When you see a recovery like that, a full point over the year or more, that's good news. That's a decently strong recovery."
Nearly 450 Connecticut companies that build submarine parts and systems — hydraulic valves, software development, control valves and other components — received $514.1 million in purchase order awards in the past five years, according to the Submarine Industrial Base Council. That represents about 3 percent of the $18.7 billion nationally for more than 5,000 suppliers that contribute to submarine, one of the most complicated machines ever designed that includes 1 million or more parts.
Eastern Connecticut has weathered numerous downturns, but employment and business levels have changed at different times, providing the benefits of diversity.
For example, employment at Mohegan Sun has fallen to 7,142, down nearly 30 percent from 2008 due to a slow-growth economy and rising casino competition in the Northeast. Pfizer Inc. has shed more than 3,000 jobs in the region — but remains steady at about 3,000 — following its move to Cambridge, Mass.
And Electric Boat in Groton and Quonset Point, R.I., employed as many as 28,273 workers in 1976 and fell to as few as 9,103 in 2000, nine years after the collapse of the Soviet Union and the end of the Cold War.
"We've been very fortunate," said Tony Sheridan, president of the Eastern Connecticut Chamber of Commerce. "Growth and security have slipped back and forth between EB, Pfizer and the casinos."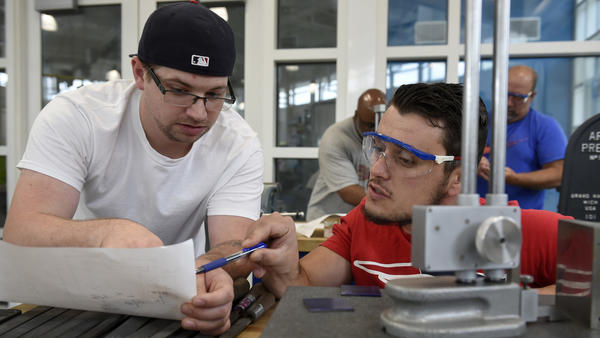 (L to R) William Arland of Oakdale and Burim Kurtishi of Niantic work together to figure out
a measurement in an introductory class at the Advanced Manufacturing Center at Quinebaug
Valley Community College. Students in this program will be eligible to work at Electric Boat.
In eastern Connecticut, global military strategy is local as Electric Boat hires thousands of
workers to keep up with U.S. Navy demand for submarines, driving economic growth not
seen in most of the rest of the state. (John Woike / Hartford Courant)
Saran said that with fewer workers now than when he began at EB in the early 1980s, deadlines and spending are tight. "We've got to watch the budget," he said.
One thing is unchanged over 37 years, however.
"They wanted the submarines," Saran said.
Legislation for the federal government's budget year beginning Oct. 1 provides full funding of $1.9 billion for the Columbia class program and $6.4 billion for the Virginia class.
"Submarines are the strongest, stealthiest, most survivable weapons platform out there," said Sen. Richard Blumenthal, D-Conn., and a member of the Senate Armed Services Committee.
The spending proposal is a "very powerful shot in the arm" that also advances U.S. defense policy, he said.
The rise in manufacturing in Connecticut may finally end a dry spell when skills training sputtered, said Stephen LaPointe, director of the manufacturing technology center at Quinebaug Valley Community College.
"It's a perfect storm right now and unfortunately, they turned the manufacturing switch off for a long time," he said.