Connecticut National Guard Families Welcome Home 100 Soldiers
By Rick Koster
The Day
April 27, 2013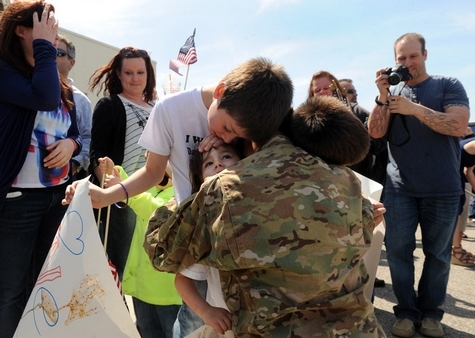 Staff Sgt. Michelle Lyons of Plainfield receives hugs from her children Dillon, 9, top left,
Shae, 4, lower left, and Jayden, 7, right, while her husband Jason Lyons, far right, along
with family and friends look on after Lyons returned with fellow members of the 1109th
Theater Aviation Sustainment Maintenance Group (TASMG) of Groton returned to Groton
Saturday, April 27, 2013.
Groton — "It gets harder every time. It's very difficult. For us and for our families."
Saturday afternoon, Col. Al Wilcoxson had just gotten off one of three buses carrying a total of 100 soldiers from the Connecticut National Guard. Members of the Guard's 1109th Theater Aviation Sustainment Maintenance Group (TASMG) had returned to the Guard's aviation maintenance facility in Groton after 281 days' deployment in Kuwait and Afghanistan. The unit conducted aviation field maintenance, depot level aviation repairs and provided aircraft maintenance, contact teams and test pilots.
"But it's worth it all to see this. It reminds us why we went over there and what we have to be grateful for," said Wilcoxson, smiling and gesturing out not just at his own family but at a vast crowd of spouses, grandfolks, parents, children, friends and fellow Guard members — all on hand to welcome their loved ones back.
As the soldiers left each bus, they were greeted by a short, single-file handshake line that included Connecticut Lt. Gov. Nancy Wyman and Maj. Gen. Thaddeus J. Martin, commander of the Connecticut National Guard. Then they broke rank to applause, cheers and cries of recognition, scattering through the crowd to hone in on their respective familial welcoming committees.
"There are definitely no speeches or debriefing sessions," said Col. John R. Whitford, public affairs officer for the Connecticut National Guard. "This isn't the time or place. It wouldn't be right to keep their families at a distance. It's not fair. You get them off the bus and let them go. It is what it is — and that's important."
The 1109th TASMG arrived at Fort Dix in New Jersey about a week ago, and the bus convoy was scheduled to arrive at the facility at Groton-New London Airport around 11 a.m. Saturday. Because of traffic, they were almost an hour late. Family members and friends had started gathering by 10:30 a.m., and the hangar was festooned with bunting and JOB WELL DONE! banners.
Folks were spread across the tarmac just outside the yawning, open doors of the massive hangar. Hand-held posters, balloons and American flags were in abundance, and the crowd fairly glittered in the spring sunshine, dressed in everything from evening finery and red, white and blue shirt/tie/hat combos to biker T-shirts and flip-flops.
Just inside the hanger opening, the 102nd U.S. Army Band played celebratory material that spanned John Philip Sousa and "America the Beautiful" to "New York, New York."
Jamie Zummo of Mystic, clutching a small American flag, was waiting, along with three generations of family and friends, for his son, Alfonso Zummo, a helicopter repairman back from his first deployment.
"We're so grateful for Facebook," Zummo said with a nervous smile. "Four or five times a week, we were able to send messages or get to see him. It made it a little easier."
Zummo said it was hard not to dwell on the living conditions and whether Alfonso was in danger depending on where he might be on any given assignment.
"But we're very proud of him. The fact that he went over there to support our country is unbelievably great. And now he's almost home."
When asked what Alfonso might want to do upon arrival, Zummo's answer was instantaneous and assured.
"He said, 'Dad, I want to go home and I want to see my dog,'" Zummo said.
Indeed, there was more than one species in attendance; several dogs also waited on their masters to get off the buses. All behaved impeccably in a fashion that indicated honor, affection and the appropriate discipline one would expect from military training.
Chance, for example, a pug owned by Griswold's Kendall Remondi, an automated logistics specialist coming back from her first deployment, just seemed happy to be in a noisy, expectant crowd. For the duration of the deployment, Chance had been living with Kendall's identical twin sister Jessica.
Also in attendance: Remondi's mother, Lisa Moyer, and her husband, Larry Moyer, as well as a contingency of brothers, sisters and friends.
"In the beginning, I was just terrified," Lisa Moyer said. "But we'd email or talk on FaceTime and that made it easier. Plus, her boyfriend, Larry Davis, was also overseas, along with their friend Kyle Mish, so that made it a lot better knowing they were at least together."
As it neared noon and word spread that the convoy was getting close, the crowd began to inch out of the hangar. Two fire trucks were parked on opposite sides of the tarmac. From the tower of one hung a massive American flag. Atop the other, a fireman turned the hose on full spray in a high, heraldic arc as the three buses rolled under and into the compound, took a U-turn and pulled to a halt.
The soldiers disembarked — and the joyous melee began.
At the back of the crowd, Chance, on a short leash, wandered about the periphery of the crowd, sniffing and taking in sights and scents. Jessica began to try to get Chance's attention and point toward the buses.
A figure in military dress strode toward them. It was Kendall Remondi.
Finally, Chance looked up and, with a canine equivalent of a double-take, leaped up and against Kendall's knees. Kendall reached down, hoisted her dog to her neck, and the two hugged as the rest of the family swarmed around.
When the delighted dog was at last returned to earth, Kendall looked around at her loved ones.
"This is amazing," she said. "All I want to do is go home and be with everybody. It will be great to take a shower in my own bathroom. I want to drink a beer. And just relax."
With that, she leaned over and, once more, pulled Chance to her chest.