USS Carter Hall Brings Crew Member Home To NL
By Brian Hallenbeck
The Day
July 9, 2012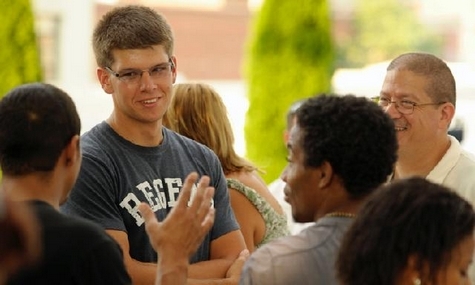 Sean D. Elliot/The Day
Evan Westbrook socializes with parishioners at his father's church, the Huntington Street
Baptist Church in New London on Sunday. Westbrook is assigned to the USS Carter Hall,
which is in town for OpSail.
Last OpSail inspired Evan Westbrook to serve with the Navy
New London - Evan Westbrook grew up on Montauk Avenue, right across the street from Michael's Dairy.
As a kid, he'd go down to Ocean Beach and catch crabs by the bucketful. Later, he worked at Burr's Marina and on the Mijoy, the fishing charter that operates out of Waterford.
It seemed anything to do with the water was to his liking.
But nothing fueled his imagination quite like OpSail 2000, the tall ships event that raised the city's profile a dozen years ago. He was 12 at the time.
"OpSail 2000 inspired me to join the Navy," Westbrook, a member of the USS Carter Hall's crew, said Sunday. "I remember seeing these amazing, elegant ships and their crews who had the same passion for the ocean and sailing that I did."
Fittingly, it was OpSail 2012 that brought Fire Controlman 3rd Class Westbrook back to New London this weekend, the Carter Hall's participation in the event enabling him to spend time with relatives, including his father, the Rev. Byron Westbrook, pastor of Huntington Street Baptist Church; his mother Andrea; and sisters Anna, Kara and Holly.
"It's such a great coincidence," Westbrook said. "Of all the ships in the fleet, to have the one I'm on chosen to come to my hometown …"
The Carter Hall, a 609-foot dock landing ship designed to transport amphibious craft, vehicles and personnel, "stormed the beach" at Niantic on Friday, Westbrook joked, and paraded into New London with the rest of the OpSail fleet Saturday. Thousands of visitors streamed through the hulking vessel Sunday as it was docked at State Pier.
Westbrook, who graduated from the city's Harbor Elementary School and Grasso Tech in Groton, had been planning a leave to visit Connecticut with his wife, Crystal, when he got word that the Carter Hall's "underway" had been extended to include stops in Bristol, R.I., and New London. So that left Crystal at home in Little Creek, Va., where the Carter Hall is homeported and where she's five months' pregnant with the couple's first child.
Westbrook spread some local color among the Carter Hall's crew.
"I've been telling my mates about the places to go, and about what a great place it is to grow up," he said of New London. "It's the best of both worlds - a small town, with the charisma of a large city. Its diversity helped build some core values in me. In the Navy, our diversity is what makes us strong."
As a fire controlman, Westbrook is trained in the operation, maintenance and repair of the Carter Hall's weapons systems. He's responsible for issuing weapons and ensuring that those to whom they're issued know how to use them. He's been on board the Carter Hall for just over a year, having previously served on a sister ship, the USS Oak Hill.
As a deck seaman on the Oak Hill, he performed maintenance and also piloted inflatable boats used in the boarding of other vessels. He served during a seven-month deployment to the Persian Gulf and a 3½-month deployment to South America. On antipiracy operations off the coast of Somalia, the crew engaged in VBSS - visit, board, search and seizure - actions against vessels suspected of carrying drugs or weapons.
Westbrook extended his original four-year Navy commitment to six years, of which he has eight months to serve. After that, he expects to enter the civilian workforce - and settle back in Connecticut.
His Navy stint and his New London youth have clearly shaped him.
"People are only the product of their environment if they choose it to be so," he said. "We can take what we learn from situations and let it affect us for good or bad. And the fact of the matter is, I would not be the man I am today if it weren't for the Navy."