Military Service A Prelude To Life's Work Of Two Local Veterans
By Jennifer McDermott
The Day
Monday, December 5, 2011

Two men from region among 10 inducted into Veterans Hall of Fame
As a young Navy officer, G. Kenneth Carpenter was thinking about a career in the military and he volunteered to go to Vietnam.
Guarding aviation fuel near an airfield in Da Nang in 1967, Carpenter realized that the military life wasn't for him. He returned home a pacifist and joined the clergy.

The most important job for any person, Carpenter says, is to figure out what they were born to do - a task that sometimes requires making radical decisions and changing completely.
Carpenter - one of 10 people inducted Friday into the Connecticut Veterans Hall of Fame Class of 2011 in Hartford - said he discovered his mission was to help people in dire circumstances, to do something "constructive, not destructive." He served as the senior minister at Mystic's Union Baptist Church for 25 years and helped found the Mystic Area Shelter & Hospitality after he met a homeless woman sleeping on the church steps.

The Veterans Hall of Fame recognizes distinguished veterans who have made significant contributions to their communities after leaving the military. There is no physical location for the hall. Information about the inductees is on the Connecticut Department of Veterans' Affairs website.
Harold Farrington Jr. of Old Saybrook is the other honoree from southeastern Connecticut. Farrington worked for the U.S. Department of Veterans Affairs for more than 30 years, helping countless veterans and their families navigate the government bureaucracy to claim the disability compensation, benefits and services they were entitled to.

"This is my life's work," Farrington said. "To know my work is being recognized is very rewarding."

"Who wouldn't be honored and humbled by all of this?" he added.
Lt. Gov. Nancy Wyman said in a letter to the inductees that the "patriots" in the Class of 2011 "not only stepped up to defend our nation in uniform, but remained fully committed to improving the lives of others when they returned home."

"Every one of these men and women is a selfless leader and role model whose service should inspire all of us," she wrote.

Carpenter said he could not get over the image of the homeless woman sleeping on his church's steps in 1997. He had to do something about it.

"The ministry is not so much what you do in the pulpit, the singing of hymns and the praying of prayers," said Carpenter, 69, of Mystic. "It is being involved with life in general, and having the great opportunity to help people make transitions for the better."

So he rallied local churches, social service agencies and businesses to start Mystic Area Shelter & Hospitality. It has provided shelter for more than 800 people in 11 years and helped hundreds more who were at risk of becoming homeless.

Lisa Tepper Bates, the executive director, said Carpenter has a "unique ability and sincere commitment" to bringing different people together to better the community.

Carpenter co-founded the Southeastern Connecticut Clergy Association to encourage people of different faiths to work together. He led the group that created the Sunshine Kitchen in Groton, which served free meals to people in need in Groton for 18 years, and organized a vigil against hate crimes after a gay college student, Matthew Shepard, was murdered in Wyoming.

A trained therapist, Carpenter volunteered to counsel veterans suffering from post-traumatic stress disorder and run workshops on suicide prevention.

"I look back at it all and say that it has all been worth it," he said. "I didn't get stuck at a place where I was just earning money so I could pay a mortgage and send the kids to college. I really felt as if I was doing what I was born to do."
Carpenter, who retired from the Union Baptist Church in 2007, said he was honored to be included in the Veterans Hall of Fame, since it is the veterans who truly understand what it means to be responsible and to follow through with a commitment.

"If I were to pick a group of people that I would like to cut the mustard with in my life," he said, "it would be veterans."

Farrington calls helping veterans with their benefits his "payback mission."

Farrington was serving in the Army's combat infantry in Vietnam in 1968 when a mortar round blew up in his left hand. He spent five years undergoing bone and skin grafts and tendon transplants at the West Haven campus for the VA Connecticut Healthcare System.

Once he recovered, Farrington decided he wanted to work for the VA because he was so impressed with his care and the attention he received from the veterans benefits counselor.

"I wanted to make other people feel good about their service," Farrington, 64, said.

After starting off as a veterans benefits counselor, Farrington was promoted in 1990 to a military services coordinator. He established veterans services offices at the Naval Submarine Base in Groton, Coast Guard Academy in New London and the Naval Station in Newport, R.I. to help service members transition to civilian life.

And, he helped close to 150 families that lost loved ones in Iraq or Afghanistan file claims for life insurance, compensation and education and burial benefits.

Paul Dillon, a retired Navy master chief who nominated Farrington, described him as a "genuine guy," who is sincerely concerned for the welfare of his fellow servicemen and women.

He retired from the VA last year.

"I tried to help my fellow man, in this case my fellow veteran," Farrington said. "I was good at what I did and I knew my benefits and services, probably better than anybody. It was a way to pay back the country for putting me back on my feet. I can't tell you what that meant to me."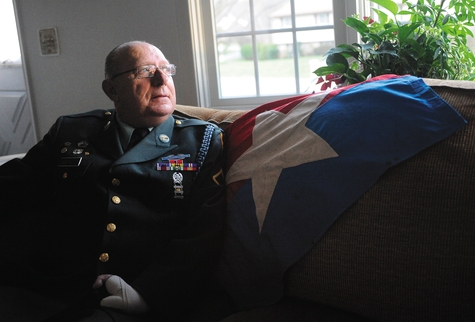 Harold Farrington Jr. of Old Saybrook injured both of his hands, one
of which is shown, during the Vietnam War. The North Vietnamese flag
was a gift to Farrington from Jack Terry, who served in Vietnam and
captured the flag. Farrington spent more than 30 years helping other
veterans with benefits and services in the U.S. Department of Veterans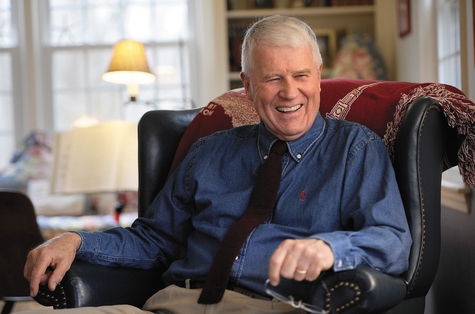 G. Kenneth Carpenter of Mystic served in Vietnam and returned home
to join the clergy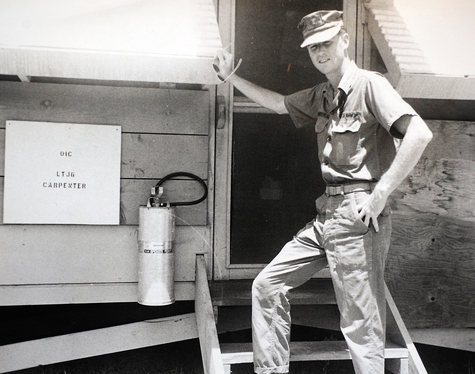 G. Kenneth Carpenter of Mystic in 1967 at a Naval supply facility in
DaNang that his unit labelled "Poverty Gulch."