Chamber Organizes a Departure Ceremony as Coast Guard's Eagle Leaves New London on its 75th Anniversary Voyage to Europe
Eastern Connecticut Chamber of Commerce
May 7, 2011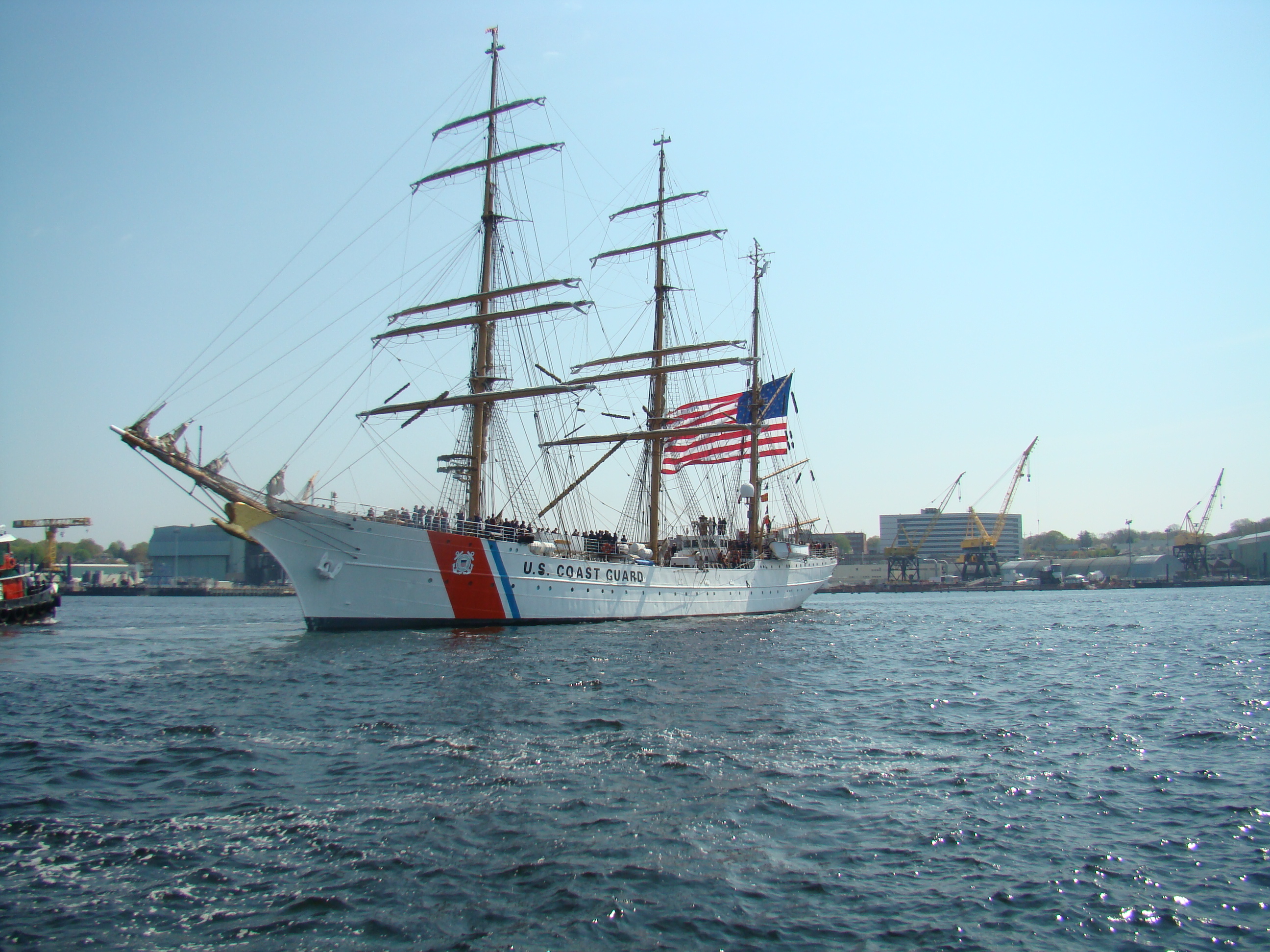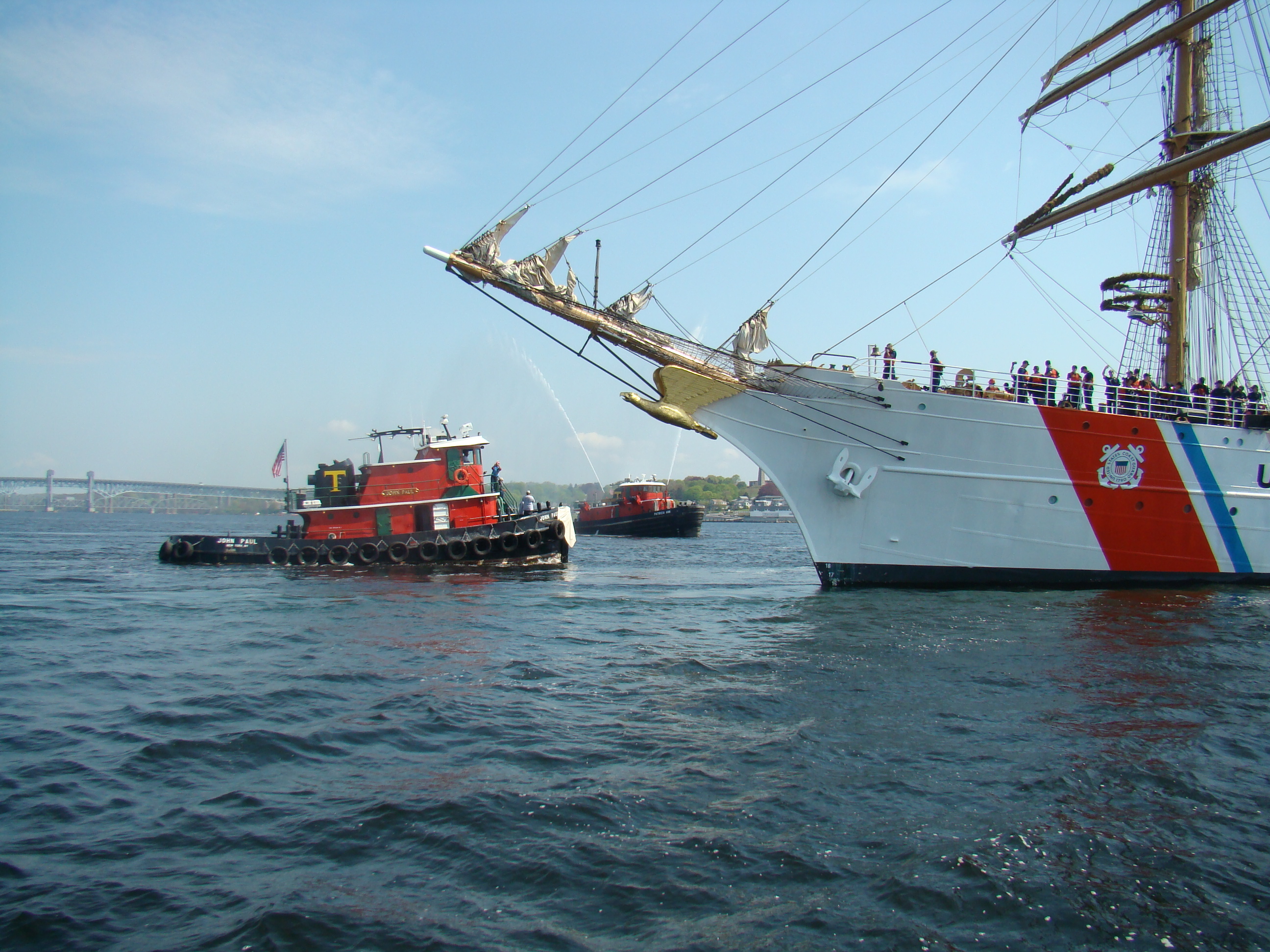 Photo by Matt Lipman, Chamber of Commerce of Eastern Connecticut
May 7, 2011, U.S. Coast Guard Cutter Eagle Departs New London, Connecticut on it's 75th Anniversary Voyage.
New London, CT. – U.S. Senator Richard Blumenthal, Congressman Joe Courtney and other dignitaries were on hand Saturday (May 7) to praise the Coast Guard as the Barque Eagle left here on its 75th anniversary voyage to Europe and the shipyard where she was built nearly a century ago.
The Chamber of Commerce of Eastern Connecticut has organized a departure ceremony for this Saturday when the Coast Guard Barque Eagle leaves New London on its 75th anniversary voyage to Europe, the first of two chamber-led efforts to honor the Coast Guard's training vessel and goodwill ambassador.
The ceremony took place at 10 a.m., at Coast Guard Station New London adjacent to Fort Trumbull. More than 140 cadets were on board.
"It was a grand event as we showed our support for the Eagle, her captain and crew who train the Coast Guard's future leaders," said Tony Sheridan, the chamber's president and CEO.
"It was fun to watch as this magnificent vessel left the pier and headed out to sea. The Coast Guard is an important part of our community. Its life-saving mission and work in homeland security responsibilities are important for our nation."
The Eagle was escorted out of the harbor by the tug Patricia Ann, donated for the occasion by the Cross Sound Ferry Company. She joined the company's John Paul and Adam that took part in the undocking of the Eagle.

Capt. Eric C. Jones said the trip is a special one as the Eagle heads back to the shipyard where it was built in 1936.
"While we're excited to embark this voyage celebrating Eagle's 75 years as a sail training ship, the moment the lines come in we'll be missing our homeport and looking forward to our return to friends and family in August."
The Eagle's first port call will be in Waterford, Ireland, May 27, the first of eight stops on its anniversary tour. They will be met by a group of Connecticut residents organized by the chamber of commerce.
"We will be looking forward to seeing some of our homeport friends after the three-week crossing of the North Atlantic," said Capt. Jones.
After stopping in Ireland, The Eagle will make its way to Hamburg, Germany, where it was built at the Blohm and Voss Shipyard in 1936 and commissioned the Horst Wessel. It is scheduled to be there June 3rd.
The remaining port calls will be: June 10, London, England; June 24, Reykjavik, Iceland; July 15, Halifax, Nova Scotia; July 22, Boston, Ma.; July 29, New Bedford, Ma.; and Aug. 5, New York, N.Y.
The Eagle, long a prominent feature of New London Harbor and a key training vessel for cadets at the Coast Guard Academy, was re-commissioned U.S. Coast Guard Cutter Eagle as a war reparation at the end of World War II, brought to this country and home ported in New London.

Each year, the Eagle travels about 13,000 miles and trains over 600 Coast Guard cadets and officer candidates. It averages between six and eight port calls each year.