Soldiers Return Home In Time For The Holidays
By JENNIFER BERNSTEIN Fox CT
The Hartford Courant
November 17, 2010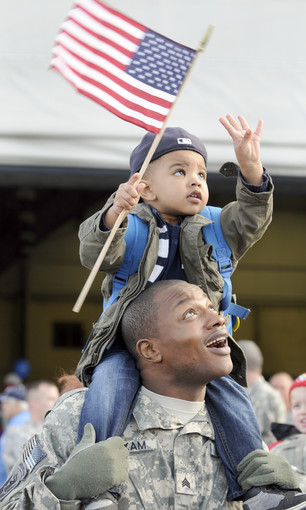 (CLOE POISSON / HARTFORD COURANT)
Damari Maxam, 2, waves an American flag from a perch on his father Sgt. Darrel Maxam's shoulders after Sgt. Maxam arrived at the Army Aviation Support Facility in Windsor Locks Wednesday morning after returning from a deployment in Afghanistan. Sgt. Maxam, of Norwalk, arrived in the first wave of about 200 troops from the 1st Battalion, 102nd Infantry, and Company F, 186th Brigade Support Battalion of the Connecticut Army National Guard.
WINDSOR LOCKS —
Holding signs and American flags, the families of about 250 Connecticut Army National Guardsmen lined the turf at the Army Aviation Support Facility on Wednesday, waiting for their loved ones to land.
"I feel like it's my wedding day," said Lindsey Robbins, who was waiting for her husband, Sgt. Aaron Robbins. "I'm nervous, I'm excited, I just can't wait to see him."
The National Guardsmen were mostly from the 1st Battalion, 102nd infantry. They left Connecticut last November for training in Indiana, and then left for Afghanistan in January, where they trained and assisted Afghan security forces.
They are the first wave of 600 Connecticut soldiers coming back for good before Thanksgiving.
Families cheered as the plane landed. Gov. M. Jodi Rell stood at the bottom of the stairs to greet the soldiers.
"I'm excited, I'm shaky!" said Sgt. Bruno Nogueira from Norwalk as he stood next to his family and fiancée, Amanda.
"She kept me going," he said.
Staff Sgt. Carlos Ramos found his family when his son ran out from the crowd and into his arms. The last time he saw him was last May, when Ramos came home for his 2- week leave. "We're just going to go home and lock ourselves in the house and veg out. Enjoy the little things we've been missing."
This group of soldiers suffered the difficult loss of one of their own while deployed. Staff Sgt. Edwin Rivera of Waterford was killed in May after an attack on his unit.
Pfc. Matthew Robinson was close friends with him.
"It's upsetting that we had to lose somebody," Robinson said. "But he's always going to be with us. Always remembered and never forgotten."
Robinson was one of five hurt in an IED attack on Easter Sunday.
"I'm one of the luckiest people alive, because I was the gunner in the vehicle," he said.
The Army National Guard expects some 175 soldiers home on Friday, and the last group by early next week.