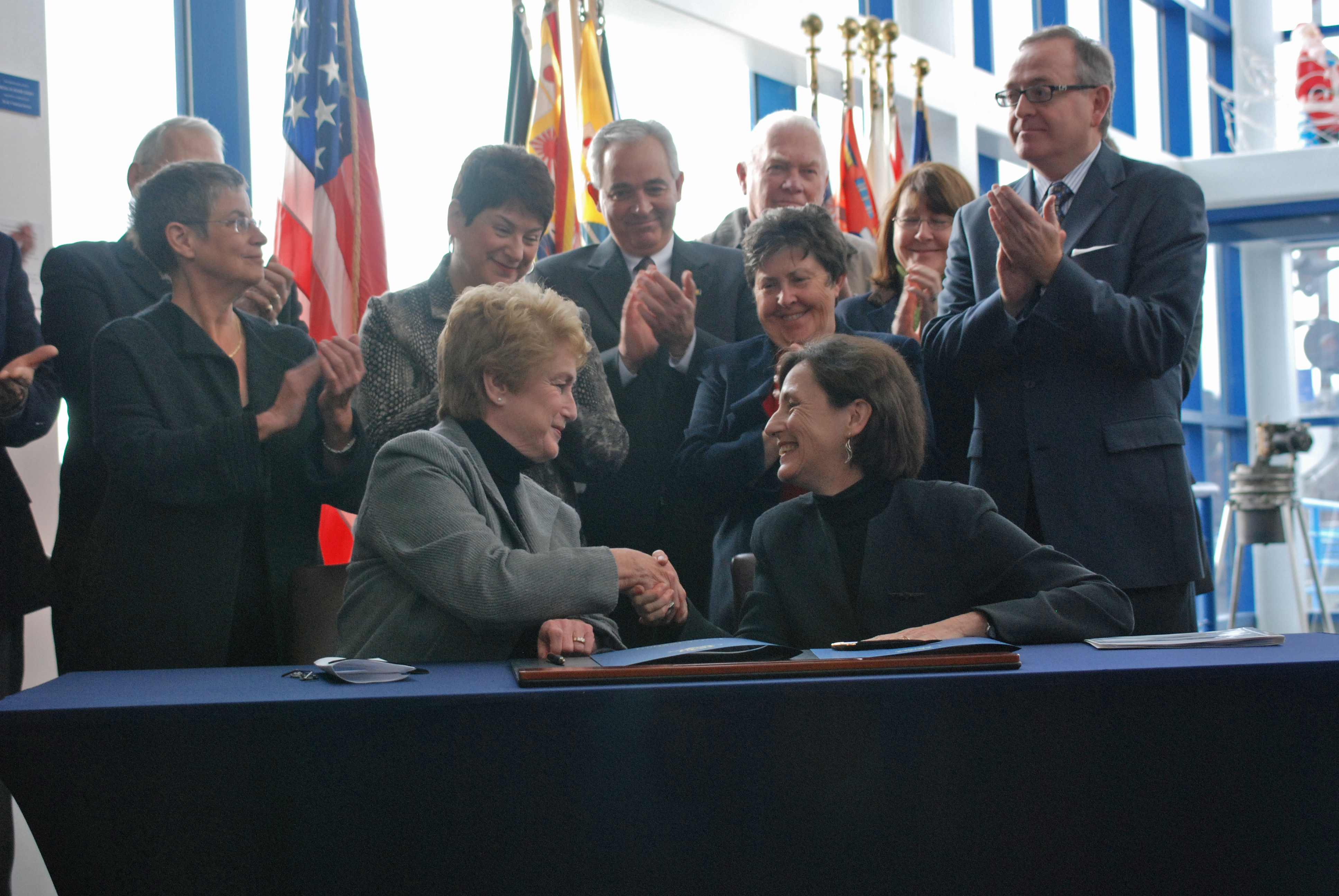 GROTON, Conn. - (December 23, 2010) Connecticut Governor M. Jodi Rell (left) shakes hands with Assistant Secretary of the Navy (Energy, Installations and Environment) Jackalyne Pfannenstiel (right) after the Navy's formal acceptance of $3.22 million in state funding to improve infrastructure on the base. The event was held at Naval Submarine Base New London's Submarine Force Library and Museum. The funding will be used to create a "training galley" that replicates that found on a Virginia class attack submarine, and will also provide an expansion of a current Submarine School Building to house a new Submarine Bridge Trainer.
Governor Rell, Top Navy Officials Celebrate Second Round Of State Investments In Sub Base
December 23, 2010
CANAIDEN MEDIA
Governor M. Jodi Rell today joined top U.S. Navy officials, state and local leaders and officers from Naval Submarine Base New London to celebrate the second round of fully state-funded investments in infrastructure on the base – part of the Governor's continuing efforts to preserve and increase its military value and support Connecticut's multi-billion-dollar submarine economy.
The state is investing $3.22 million for a pair of new projects – one to house a high-tech submarine bridge simulator and another to create a training facility for sub-based culinary specialists. These projects follow an initial state investment in 2009 of $7.65 million that is supporting the construction a new Diver Support Facility as well as modernizing a boiler at the base's power plant.
In addition to its critical role in national defense, the base has an estimated annual economic impact of $4.5 billion and accounts for about 15,000 jobs. It is currently home to 15 fast-attack submarines and more than 70 tenant commands and activities.
"Today's ceremony is another 'concrete' example of Connecticut's enduring dedication to the submarine base and to the men and women who serve our nation here," Governor Rell said at a ceremony attended by Assistant Secretary of the Navy for Energy, Installations and Environment Jackalyne Pfannenstiel. "Our ties run deep – and they endure. The state first donated land to the Navy for this base in 1868, just a few years after the end of the Civil War, and our relationship has lasted through every conflict our nation has confronted since then and through every change in our Navy.
"We have always been proud of our role as 'Submarine Capital of the World' – a title we have no intention of relinquishing – and we have always been proud of Connecticut's role in the defense of our nation and the defense of our national ideals," the Governor said. "When we announced the first round of investments last year, our state was the first in the nation to reach an agreement of this kind. We are also proud to be charting that new course."
Twice in recent years the submarine base has been targeted for closure in the Base Realignment and Closure (BRAC) process. Each time, the efforts of "Team Connecticut" persuaded decision-makers that it would be short-sighted to close the base and lose the tremendous synergy created by the base, the nearby Electric Boat plant and the state's defense manufacturing and technology base.
Military value is the criteria used by BRAC in determining whether to close a base. Enhancing the military value of the sub base is intended to prevent its being listed on any future BRAC round. Notably, the sub base is the Fiscal 2010 winner of the Commander, Navy Region Mid-Atlantic's Award for Installation Excellence – meaning its has gone from being slated for closure in 2005 to being identified as one of the 12 best bases in the nation in 2010.
The first of the new projects will build a $2.48 million addition to an existing building to house the new Submarine Bridge Trainer – a high-tech, interactive simulator used to train the officers and sailors in submarine navigation. Funding for the $4 million simulator itself is already included in the Navy budget.
The second, $740,000 state project will convert an existing but underused area of the base into a full-size replica of a Virginia-class submarine's galley, where future culinary specialists can master the particular challenges of cooking and serving meals in an underwater environment.
Both of the new projects are part of the state's continued effort to maintain and enhance the base's role as the home of the Navy's "sub school." The projects also mean students can stay in Groton for these phases of their training.