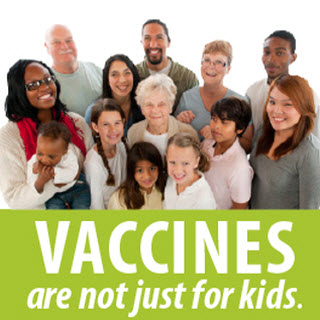 Immunizations are necessary throughout one's lifespan from childhood to adulthood. As an adult, you may be at risk for other diseases due to your occupation, lifestyle, travel, or health conditions.  Immunization services for adults prevent unnecessary illness and save lives. Vaccines are offered for adults in traditional and nontraditional settings such as schools, medical offices and clinics, health departments, pharmacies and residential facilities such as a nursing homes.

"Vaccinations protect you. They protect your family.
And they protect people around you." 
~CDC Director, Dr. Thomas R. Frieden
The CDC Adult Immunization Schedule was approved by the Centers for Disease Control and Prevention's (CDC) Advisory Committee on Immunization Practices (ACIP), American Academy of Family Physicians (AAFP), the American College of Physicians (ACP), the American College of Obstetricians and Gynecologists (ACOG), and the American College of Nurse-Midwives (ACNM).
Contraindications and Precautions for Adult Vaccinations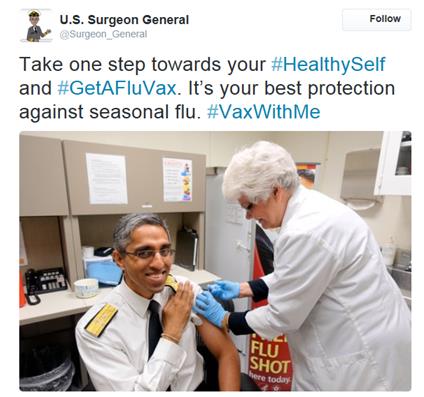 NIVW provides an opportunity for public health and health care professionals, health advocates, communities and families across the country to work together to promote flu vaccination. We know that many partners across the United States have plans to participate in NIVW, and the success of NIVW relies upon the involvement of partners at all levels.
You can check out the above link for tools to promote this in your community & with your partners.
Keeping Your Vaccine Records Up to Date Vaccination records provide a history of all immunizations from childhood to adulthood. These records may be required for certain jobs, travel abroad, or school registration.           
Travel Safe  Before you travel internationally, ensure that you are up to date on all your routine vaccines, as well as travel vaccines.
The Advisory Committee on Immunization Practices (ACIP) is a group of medical and public health experts that develop recommendations on how to use vaccines to control diseases in the United States.
Shingles (Herpes Zoster) 

Shingles is a painful localized skin rash often with blisters that is caused by the varicella zoster virus (VZV), the same virus that causes chickenpox

. It causes a painful, blistering skin rash that can last 2 to 4 weeks. For some people, the pain can last for months or even years after the rash goes away.

Almost 1 out of 3 people in America will develop shingles during their lifetime. Your risk of shingles increases as you get older.

The vaccine for shingles (Zostavax®) is recommended for use in people 60 years old and older to prevent shingles. The older a person is, the more severe the effects of shingles typically are, so all adults 60 years old or older should get the shingles vaccine. Shingles Fact Sheet
National Adult and Influenza Immunization Summit (NAIIS)  The NAIIS is dedicated to addressing and resolving adult and influenza immunization issues. The NAIIS consists of over 700 partners, representing more than 130 public and private organizations.
Connecticut Immunization Coalition, Mission Statement The Connecticut Immunization Coalition (formerly the Connecticut Influenza and Pneumococcal Coalition) meets on a monthly basis and is dedicated to the promotion of ACIP recommended adult vaccinations for the protection from the illness or complications from, invasive pneumococcal disease, shingles (herpes zoster), pertussis (whooping cough) among other vaccine preventable diseases. The coalition also has a primary focus on influenza vaccination throughout the community. Read more    
Regulations
Hospital 

Medical Protocol for the Administration of Influenza and Pneumococcal Polysaccharide Vaccines for Patients in Hospitals Standing Orders. 

Public Health Code 19a-490k-2

Long-term Care Facilities

Chronic and convalescent nursing homes and rest homes with nursing supervision.

Public Health Code

19-13-D8t
Resources
For more information or to contact the Immunization Program, please call:
860-509-7929, during normal business hours, Monday-Friday 8:30am to 4:30pm
Return to Immunization Home Page