CONNECTICUT DEPARTMENT OF TRANSPORTATION

NEWS RELEASE

2800 BERLIN TURNPIKE P.O. BOX 317546

NEWINGTON CONNECTICUT, 06131-7546
FOR RELEASE: November 16, 2015

FOR FURTHER INFORMATION:

OFFICE OF COMMUNICATIONS

TELEPHONE: (860) 594-3062

FAX: (860) 594-3065
---
Farmington River Trail Opens in Burlington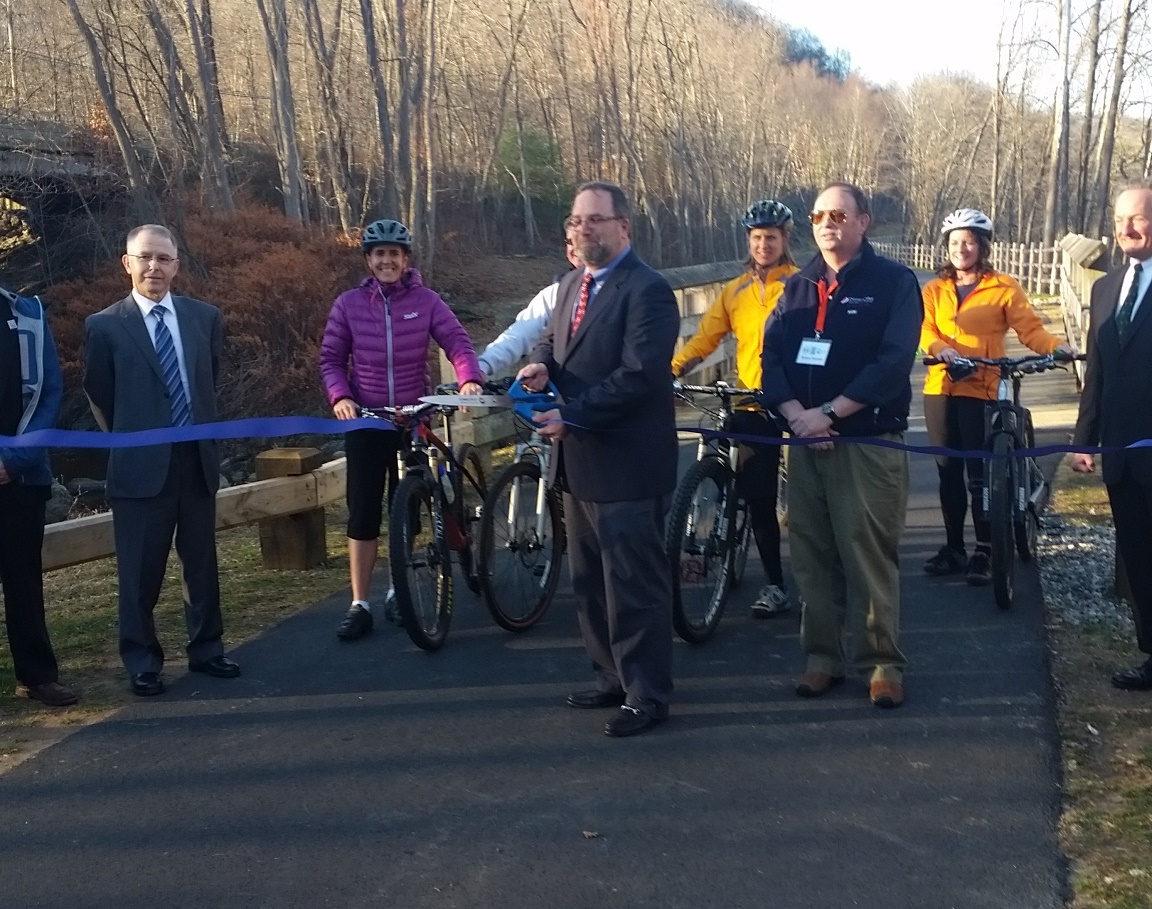 A newly rebuilt and resurfaced 1.8-mile section of the Farmington River Trail in Burlington – part of the East Coast Greenway system – was formally opened today by state and local officials in a brief ribbon-cutting ceremony.
"This project is another example of our commitment – and that of Governor Malloy – to expanding our network of bicycle and pedestrian trails across Connecticut, and especially those linked to the East Coast Greenway," said Connecticut Department of Transportation Commissioner James P. Redeker. "This beautiful trail along the Farmington River is extremely popular and we are delighted to have been able to make this happen."
"The Town of Burlington appreciates the support from Governor Malloy, Commissioners Redeker and Klee, State Senator Beth Bye and State Representative John Piscopo, and all the other valued community leaders in the region," said Burlington First Selectman Ted Shafer. "This Farmington River Trail is a symbol of what residents of Connecticut value: quality of living for their families, recreation corridors and wildlife habitat protection."
The Burlington project was completed at a cost of about $758,000 – paid for with $104,000 from the town, $484,000 from the federal government, and $170,000 from the state. Work began in November 2014 and was done by TradeMark Contractors LLC of Bristol Connecticut.
"Visitors to the Burlington portion of the Farmington River Trail will continue their enjoyment of outdoor recreation including walking, biking or snowshoeing during all of Connecticut's beautiful seasons," said Robert Klee, Commissioner of Connecticut's Department of Energy and Environmental Protection (DEEP). "This heavily used trail is a fine example of scenic open space property that protects important wildlife habitat and natural resources for all of us to enjoy."
The repaved path is 10 feet wide and has a grass "clear zone" on each side. As part of the project, a number of Black Locust trees – an invasive species – were removed. But, uniquely, as black locust wood is especially resistant to rotting, the wood is being turned into benches, signage and an informational kiosk along the trail.
The project area is located alongside a portion of the Farmington River designated as the Lower Farmington River, which is being considered by Congress for inclusion in the National Wild and Scenic Rivers system. In addition, the project area is located within the Farmington Canal National Register Historic District.