STATE OF CONNECTICUT
Department of Public Safety
1111 Country Club Road
Middletown, Connecticut 06457

Contact:

FOR IMMEDIATE RELEASE

1/4/2011
State Police Make Narcotics Arrest In New Haven
On 1/4/2011 at approximately 12:00p.m., State Police Detectives from the Statewide Narcotics Task Force and members of the Orange Police Department seized approximately 50 pounds of processed marijuana packaged for street sale in the City of New Haven.
State Police Narcotics Detectives and members of the Orange Police Department conducted an extensive criminal investigation that developed information leading to the seizure of a package of processed marijuana that was located at 355 Norton Street in New Haven. After obtaining a Search and seizure warrant from Superior Court, State Police Narcotics Detectives searched for and seized the marijuana and a stolen firearm.
The marijuana was in the possession of the accused Jason Cox. The accused was taken into custody without incident and transported to Union Ave. detention where he was held on bond to appear in Superior Court on 01/05/11.
ACCUSED: Cox, Jason DOB: 1/26/73
355 Norton Street
New Haven, CT
CHARGES: Possession of more than one kilogram of marijuana
Possession of marijuana with intent to sell
Possession of marijuana within 1500 feet of a school
Possession of a stolen firearm
The investigation is continuing.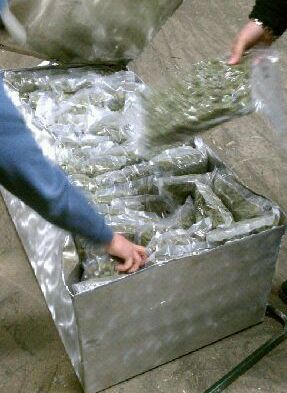 ###END###
Lt. J. Paul Vance