Foodshare Composting Project - August 2002 Update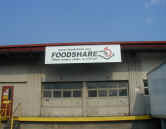 After some unavoidable delays, Foodshare's Agricultural Marketing division now has space at the Regional Market Produce Terminal. Considerable demolition and reconstruction work still needs to be done before the space is suitable for occupancy, but it is moving along, and should be operational sometime this month.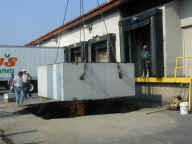 The 6,000-gallon concrete holding tank for the pulped food waste was installed on July 22nd. The food grinder, forklift and electrical converter have been delivered, but not installed. An unbudgeted expense ($900) was incurred due to the necessity for a transformer to convert the voltage for the grinder from the 480 volts available at the Market, to 575 volts which is what the grinder is designed to run on. Apparently, 575 volts is standard in Canada where the grinder was designed, and the company claimed that this couldn't be changed.
Foodshare Project | Food Waste Composting Pilot Projects
Content Last Updated February 13, 2020