Aggregate Processing Facilities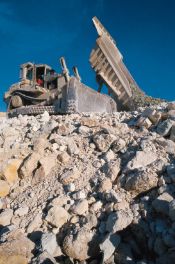 This page is intended to help contractors identify processing facilities that accept asphalt, brick, and concrete (ABC) resulting from the construction and demolition of buildings, highways, and bridges.
Volume Reduction Plants
The Connecticut DEEP maintains a list of permitted Construction & Demolition Processing Facilities, otherwise known as Volume Reduction Plants (VRPs). Some of these plants accept asphalt, brick and concrete, but may also accept other types of solid waste typically generated at construction and demolition (C&D) sites such as wood, gypsum wallboard, furniture and rugs. Some VRP's simply transfer materials to a disposal site, while other perform various degrees of separation and processing before disposing and/or recycling. Before delivering anything to these facilities, it is advisable to call ahead and confirm that they will accept the quantity and type of materials that you want to deliver. Most C&D processing facilities in Connecticut recover none to very little materials for recycling. If you are seeking LEED certification or want to ensure your materials are being recovered for recycling, please contact the facility directly.
Other ABC Processing Resources
You can also find facilities that process asphalt, brick and concrete (ABC) by using the following resources:
The Blue Book Building and Construction Network This is an on-line "book" that includes over a million listings and 560 categories pertinent to the building and construction industries. The database is searchable by keyword, region and classification. The Keywords that returned the most results for the Connecticut region were "aggregate" and "recycling." Try other keywords suitable to your needs. Scroll to the bottom of the search results for next pages.
Construction and Demolition Recycling Association Promotes the safe and economically feasible recycling of the more than 325 million tons of recoverable construction and demolition (C&D) materials that are generated in the United States annually. Their Find a Recycler page allows you to search their members by state.
Yellow Pages An on-line version of the Yellow Pages. Search for the keywords such as Aggregate Recycling; Asphalt Reclaiming; Demolition Contractors; Recycling Centers & Services; Sand & Gravel; and Stone Crushed. Search the same categories in the printed version of the Yellow Pages or Yellow Book.
Disclaimer: The Connecticut Department of Energy and Environmental Protection (DEEP) maintains the content on this web site to enhance public access to information and facilitate understanding of waste reduction, reuse and recycling. The DEEP is not recommending these resources over any others and recognizes these represent only a partial listing of resources on this subject.
Content Last Updated February 5, 2020