Facilities
Boat Launch, Conservation Education Center, Outhouses, Picnic Pavilion
For those with limited mobility, the 1.6-acres adjacent to the house sport the Richard D. Haley Native Plant Wildlife Gardens. Here one can take a self-guided walk among several gardens, each representing different combinations of trees, shrubs and herbaceous plants that have wildlife value. Visitors can find a spot similar to their own backyard, and come away with ideas for high value wildlife plants that they could grow at home.
A new Forest Discovery Trail leaves the northwest corner of the gardens and follows a loop that brings the hiker through several managed forest areas before returning to the Center.
Those looking for still more can pick up a Goodwin State Forest trails map at the Center or at the southern terminus of the Blue-Blazed Natchaug Trail across Potter Road near the pavilion. Over 10 miles of white, red and yellow marked trails surround the 135-acre Pine Acres Lake, the smaller Brown Hill Pond, and follow other interesting forest landscapes. The Natchaug Trail follows the west bank of Pine Acres Lake, then passes Black Spruce Pond and a beautiful overlook on Orchard Hill before wending its way down to the Natchaug River and Route 198. Hikers exploring other portions of the approximately 2,000 acre forest may find a letterbox, and spots for youth camping.
The pavilion, which overlooks Pine Acres Lake, seats 50 people and is available on a first come, first served basis to the public. It is located on the east side of Potter Road and is available 365 days a year, from dawn until dusk.
Pine Acres Pond is large (135 acres) and shallow, with stumps and logs protruding in many places. The lake is ideal for a challenging canoeing excursion. Bass, bluegill and bullhead fishing is popular, and the boat launch is across from the Goodwin Conservation Center. Electric motors are permitted but gasoline motors are prohibited.
The Blue-Blazed Natchaug Trail begins at the Conservation Center and stretches north to connect with the Blue-Blazed Nipmuck Trail. At the beginning of the trail, near the Conservation Center, there is a shed for wildlife viewing that looks out onto Pine Acres Lake.
Finally, the Air Line State Park Trail, a former railroad bed, crosses Potter Road just a few hundred feet from the Center. The graveled, level bed makes it ideal for hiking, cross-country skiing and horseback riding. Those feeling adventurous can hike the Air Line Trail some 8 miles north to the Northeast Connecticut Audubon Center in Pomfret, and from there on to Putnam if they choose.
Whatever your desired hike may be, from a couple hundred feet to a dozen miles or more, the James L. Goodwin State Forest has a great combination of natural beauty, exercise and educational opportunities to offer you.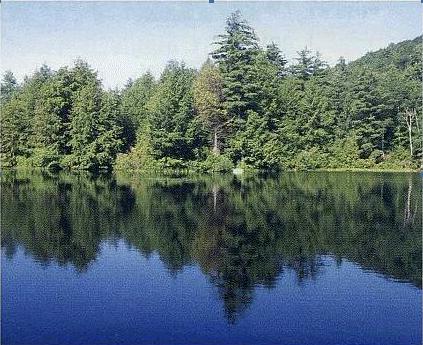 Goodwin State Forest, Hampton