Environmental Speakers, Presenters and Performers
With a Focus on Recycling and Resource Conservation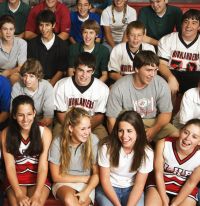 Below are a list of performers, assembly programs, workshop presenters and possible keynote speakers that provide programs that engage people about environmental issues. In some cases they specifically address recycling, waste reduction, consumption and the need to conserve natural resources. If you can recommend others who offer similar programs in the Connecticut region, please contact Chelsey Hahn.
KEY: $ Means performer or speaker charges a fee.
Speakers and Presenters
Topics
Connecticut DEEP School Programs & Field Studies

Susan Quincy
(203) 734-2513

Grades 3 through 5

Resources: Then, Now and Tomorrow
Students look back in history to compare resource use when Mrs. Frances Osborne Kellogg (1876-1956) lived to current day activities. Students will investigate the museum for changes in technology, evaluate and categorize natural resources through trash investigations and calculate their environmental footprint to understand how our use of resources has changed. Students will identify ways to improve conservation efforts through green technology and personal action. (NGSS: 4-ESS3-1, 3-5-ETS1-1)

Water on the Move
Understanding the role of water in Earth's processes begins with understanding its limits and availability. Students will explore the movement of water in the built and natural environment through hands on simulations and activities that focus on the watercycle, groundwater, watershed mechanics and distribution of water on the globe. Knowing how water behaves is the first step to water conservation and protection. (NGSS: 3-5-ETS1-2, 4-ESS2-2, 3-5-ESS2-2, 5-ESS3-1)

Measuring the Environment
Students participate in citizen science investigations to learn about the methods of science and evaluation used to quantify environmental issues. Activities are provided that are seasonally appropriate and allow for real hands on participation in data collection. Simulations are dependent on age, group size and season, but can include: lichen monitoring, bee behavior, population counts, and carrying capacities. (NGSS: 3-LS3-1, 3-LS3-2, 3-LS4-2, 4-LS1-1 5-LS2-1)

Grade 5-adult

10 Minutes to Save the Earth
Explore climate change impacts seen in Connecticut. Using a climate action simulator, identify action plans for reducing greenhouse gas emissions to meet 2100 temperature challenge as set by the Paris Accord. Work in teams to see the variety of applications for climate initiatives and identify how you can support climate change action.

Grades 6 through 12

What Color is the Air?
Monitoring of environmental quality is important to help apply methods that reduce human impacts. Students will receive information on what scientists look at to understand air quality. They will use biological indicators and simple particle sensors to see how to monitor air changes. (NGSS: 5-ESS3-1, MS-ESS3-3, MS-LS2-1)

Testing the Waters
We are all drawn to water, but sometimes we harm what we love. Students will make simulated systems and conduct qualitative water tests to evaluate the health of a water environment. Learning how to reduce impacts has resulted in many new materials and design applications. Students will learn about these and how to apply them to reduce impacts in our communities. (NGSS: MS-LS2-1, MS-ESS3-3, HS-ESS3-4)

Our Environmental Footprint by the Numbers
Students investigate the impact humans have on the planet by calculating their own "environmental footprint," thereby showing them the amount of land and water they need to support their lifestyle. Students compare their own environmental footprint to footprints from people around the world. We will focus on the area of carrying capacity, first through wildlife management and then as it applies to human condition. Students will be asked to identify ways to redesign an aspect of needs and wants to help improve resource use as related to lifestyles and consumption of materials. (NGSS: MS-ESS3-4, HS-ETS1-1)

Composting, Soils, Eco-Systems, Seeds, Water Cycles

Hands-on science programs on 120-acre farm or programs that can be brought to your school.

Greg Bugbee

The Connecticut Agricultural Experiment Station
Department of Soil & Water
123 Huntington Street
P.O. Box 1106
New Haven, CT 06504
(203) 974-8512

Composting

Expert in soil fertility, invasive aquatic plants, turfgrass, potting media, composting, and control of weeds and algae in lakes and ponds. In charge of the soil testing laboratory and the invasive aquatic plant program. Holds state supervisory licenses in the care of trees, turf and ornamentals, and aquatic weed control. Works with public to solve soil and water related problems.
KEY: $ Means performer or speaker charges a fee.
Program Information

$

Billy B uses songs, dances, theatrical backdrops and improv comedy to reach and teach his audiences about the wonderful workings of our beautiful planet. Billy B is also featured on the artist rosters at Young Audiences of MA, and Young Audiences of NJ. His programs include: Bio, Bio Biodiversity (Grades K-8), Nature in the City (Grades K-8), Ways of the Bay (Grades K-8), Climate, Let's Define It! (Grades K-8).

PO Box 1345
Brattleboro, Vermont
(802) 380-8800

$

Animal Tales (Pre-School through Grade 3)
Uses some of the same songs as "Green Up" – but this is geared to younger ages.

"Green Up" (Grades K-12)
Tailored to the age of the audience. Bill has the exact song material and sense of humor to engage and hold the attention of audiences of any age, even the hard to reach middle schools and high schools. Bill performs solo, or with his Green Up Band. He brings a slide show, with photographs and lyrics for some of the most sing-able songs. As always, Bill sings mostly original songs from his award winning album, as well as plays the flute, clarinet, and saxophone.

BJ Hickman

BJ Hickman Magic Shows
623 Sixth St.
Dover, NH 03820
(603) 742-4010
(888) 262-4425

$

"Recycling Magic" (Grades K-8)
This is magician BJ Hickman's newest school assembly program. It's lots of fun as bottles, cans, cardboard, paper and more are used (and reused) to promote the importance of recycling. BJ Hickman takes the participants on a magic journey through the "A to Z" list of who should recycle, why we recycle, how to recycle, and what to recycle. The magic words, "I reeeee-cycle" will be remembered for years! Waste Management is often the sponsor. Fees vary depending on date, size audience, and travel distance. Base fee for one program ("fees start at") usually based at $425 net.

950 Trout Brook Drive
West Hartford, CT
(860) 726-4008

See their Educator Program Guide and website for all available programs, teacher trainings, field trips and more.

The traveling classroom program of The Children's Museum travels all across Connecticut, Massachusetts and New York, bringing science to schools, libraries, scout meetings and more. Looking to save on the cost, time and effort of making a trip to us? Having outreach come to you is the answer.

With more than 20 programs for grades PK-8, our outreach covers a wide variety of topics that are sure to spark excitement for science. Our assembly programs can serve large audiences and are filled with spectacular demonstrations on chemistry, sound, electricity, flight and more. Live animals from the Museum's Wildlife Sanctuary can hit the road to visit you. We bring the night sky indoors with the STARLAB portable planetarium. Hands-on classroom programs let smaller groups get up close and personal with engineering, slime, insects, forensics, music and other science subjects. In our science showcases, hands-on, museum style exhibits explore electricity, magnets, lights, motion and bubbles.

Schedule a traveling classroom program today! For questions or to schedule a program, contact our Registration Department or call (860) 726-4008.

C.J. May - Resourcerysm

Better World Magic
203-737-0475

$

CJ May is the Resourcerersm

CJ May uses magic to entertain, educate and communicate the message of sustainability to his audiences. The strength of his performances comes from the combination of his years as an environmental professional, a magician and a storyteller. His landmark "Recycling is Magic" performance has been seen by thousands since CJ created it in 2005. Resourcerysm, his blend of magic and message on issues of sustainability, has reached elected officials, civic organizations, and leaders in the business and environmental communities.

CJ is available to perform and educate about a variety of environmental themes: Recycling and Waste Management, Energy, Water, Sustainability as Core Value of the 21st Century, and Green Business Opportunities.

EarthCapades – Environmental Vaudeville

446 Old County Road
Suite 100-405
Pacifica, CA 94044
(650) 557-4258
(888) 235-7124

$

Waste Reduction Production (Grades K-8)
Learn simple things everyone can do to reduce waste at school and at home; conserve natural resources, enjoy nature, and explore ways we all can live in balance with Planet Earth.

Planetary Circus (Grades K-8)
EarthCapades effectively weaves comedy and circus skills with clear lessons about ecology, Earth science and positive environmental choices to demonstrate that every day is Earth Day.

Jack Golden

PO Box 933
Greenfield, MA 01302
(413) 774-3563

$

Garbage is My Bag (Grades K-8)
In "Garbage Is My Bag", an award winning performance program for school audiences, Jack Golden is the comedic "expert", Dr. T., who delves into a mountain of trash and an even bigger bag of vaudeville and circus tricks in search of answers to these questions. Garbage Is My Bag is a forty five minute program designed for assembly presentation to grades K-8.

A Litter Bit Goes a Long Way (Grades K-8) Now Dr. T. shares the stage with the quintessential game show personality, Les Litter in a mad cap adventure into the messy world of litter. Together they explore this serious issue in a comic and upbeat way that is guaranteed to leave smiles on the faces and ideas in the minds of students about where litter comes from, why people litter and what can we do to prevent litter.

P.E.A.C.E.®
P.O. Box 1052
Norwich, VT 05055
802·649·1815

michaelcaduto@p-e-a-c-e.net

$

Storytelling, Science, Environment (Grades K-8) Michael's presentations range from programs on natural history and science to performances of story, song, dance, instruments and a cast of humorous and dramatic characters that share Earth stewardship and cultural understanding. Programs include "Minibeasts of the Stream," "The Loon's Necklace," "The Children Who Plant Trees" and "Kid's Power Program: Renewable Energy for Today's Kids." Performances include "Earth Tales from Around the World," "Keepers of the Earth," "Native American Games," "Tales from the Deep: Legends of the Living Waters," "Earth Gardens and the Seeds of Life," "The Rainbow Garden: Celebrating Cultural Diversity," "Native American Thanksgivings," " Flying Turtles & Talking Bears," "Bird Tales from Around the World" and "Keepers of the Night: Moths & Monsters, Bats & Bones."

Michael J. Caduto is creator/co-author of the best-selling Keepers of the Earth series (NAPPA Gold Award) and Native American Gardening: Stories, Projects and Recipes for Families ( NAPPA Silver Award).

Steve Trash


Pamela Lewerenz
Executive Assistant to Steve Trash
Frog Pond, AL
978-835-8954

$

Trash & Recycle Show & Steve Trash Science - LIVE (Grades K-5).
Steve Trash offers two live shows for school kids. His live shows are an excellent blend of entertainment and education. He features magic tricks, music (made on recycled instruments), and a ton of funny stuff. Students will learn how to Reduce, Reuse, Recycle. They'll learn about the all connections that exist in nature and much much more. He's the winner of the - 2019 DAR Conservation Award, 2011 EEAA Environmental Educator Award and 2019 EEAA Best Curriculum Award. Steve also has a new children's science show on PBS - called Steve Trash Science. You can watch for free on the PBS app or online.


UCONN Master Composters

Gail Reynolds, State Master Composter
gail.reynolds@uconn.edu

Dawn Pettinell, Associate Education Educator
dawn.pettinelli@uconn.edu

The UConn Home & Garden Education Center developed the UConn Master Composter Program, held each fall, to educate and train state residents about backyard and small scale composting and to assist participants in passing this knowledge on to others.

Those enrolled in the Master Composter program will:
• Learn why it is important to reduce the amount of waste sent to incinerators or landfills
• Understand how individuals and communities benefit from making compost
• Discover the art and science of composting
• Become familiar with techniques for creating/ maintaining backyard composting systems
• Visit and learn about municipal, on-farm and worm composting methods
• Improve teaching and leadership skills through community outreach projects
KEY: $ Means performer or speaker charges a fee.
Additional Resources and Speaker Bureaus
Children and Nature Network Speakers Bureau The Children & Nature Network (C&NN) was created to encourage and support the people and organizations working nationally and internationally to reconnect children with nature. The network provides a critical link between researchers and individuals, educators and organizations dedicated to children's health and well-being. C&NN also promotes fundamental institutional change and provides resources for sharing information, strategic initiatives and success stories.
National Wildlife Federation Speakers Bureau The National Wildlife Federation's conservation work is focused in three major areas: confronting global warming; connecting people with nature by getting them outside; and safeguarding wildlife and restoring wildlife habitat.
New England Wild Flower Society Speakers Bureau Topics they can cover include invasive plants, climate change, ecology and conservation, gardening for biodiversity, soil food web, edible gardens, rain gardens, and butterfly gardens.
EPA - New England Speakers Bureau Dozens of EPA employees with a variety of subject matter expertise, from global warming to hazardous waste, fill speaking requests at elementary and middle schools, high schools, and universities throughout New England. Presentations range from hands-on activities to slide shows, depending on your need. Staff participate on career panels, speak to small or large audiences, and participate in Earth Day and health fairs.
Connecticut DEEP Educator Workshops
Disclaimer: The Connecticut Department of Energy and Environmental Protection (DEEP) maintains the content on this web site to enhance public access to information and facilitate understanding of waste reduction, reuse and recycling. The DEEP is not recommending these resources over any others and recognizes these represent only a partial listing of resources on this subject.
Content Last Updated July 22, 2020