Connecticut's National Archery in the Schools Program (CT NASP)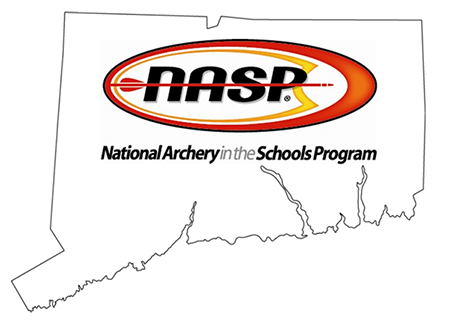 What Is NASP?
Connecticut's National Archery in the Schools Program (NASP) is an in-school program typically taught during physical education classes. The program is designed to teach International-style target archery skills with the help of a pre-written curriculum which meets or exceeds national physical education standards. The core content covers archery safety, equipment, technique, mental concentration, and self-improvement. The program positively influences student attendance, behavior, self-esteem, confidence, and on task behavior. NASP transcends gender, racial, ethnic, and economic backgrounds and provides an equal learning opportunity to all students by using standardized equipment, training, and implementation.
The National Archery in the Schools Program was co-created in 2002 by the Kentucky Departments of Education and Fish and Wildlife Resources. By the 2011-2012 school year, over 2.3 million students nationwide participated in the program. Today, it is estimated that over three million students participate in this program worldwide.
Archery is a lifelong sport that can be enjoyed for many years beyond most traditional sports. NASP participants become part of a community that they may not have experienced before. They also gain improved self-esteem and confidence. By becoming involved in NASP, many students increased participation in their school, boosted their attendance, improved their grades, and had less disciplinary conflicts.
How Is NASP Funded?
Funding for the Department of Energy and Environmental Protection (DEEP) National Archery in the Schools Program comes from the Federal Aid in Wildlife Restoration Program, also known as the Pittman Robertson (P-R). Funds for the Federal Aid Program come from a federal excise tax on hunting and archery equipment. They are allocated to state fish and wildlife agencies based on the number of hunting license holders and the size of each state in relation to the other states. The U.S. Fish and Wildlife Service reimburses states, including Connecticut, at a rate of 75% of each dollar spent on shooting sports and hunter education activities. It is up to each state to match the 75% with a 25% contribution or match.
Getting Started
Teachers attend a one-day Basic Archery Instructor (BAI) training class to become certified before presenting the NASP curriculum to their students. Training is conducted by Connecticut DEEP Wildlife Division staff and volunteers who are certified Basic Archery Instructor Trainers (BAITs). The program, training, records, and information are coordinated and maintained by the Connecticut DEEP. Once a teacher becomes certified at a school, a basic equipment set will need to be acquired to begin teaching the program. For additional information or to get started, contact the Connecticut NASP Coordinator at 860-424-3174 or deep.CTNASP@ct.gov.
Content last updated on November 21, 2016.