GIS Data Guide
Stream Survey Points
Publisher
Connecticut DEP, Bureau of Natural Resources, Fisheries Division
Publication Date
1997
Data Collection Scale
1:24,000
Data Collection Date
1987 to 1995
Update Frequency
Major Rivers and Trout Management Areas ONLY are updated annually
DEP GIS Data Downloads
This 1:24000 datalayer includes points along streams which have been surveyed for a variety of characteristics relative to fish habitat. It is a point shapefile with a site number field and x and y coordinate fields. The actual data is in report format in a separate database and is accessed via html (web) pages. This data includes location information, chemical data, physical data and site attributes.
Location information includes stream name, site description, town and the topographic quadrangle map in which the stream is located. The sampling date is also given. Chemical data include dissolved oxygen, pH, alkalinity, conductivity, turbidity, water color, air temperature and water temperature. Descriptions of physical characteristics include the width and depth of the stream, water velocity, discharge volume, salt dilution, substrate information, and instream cover materials. Site details such as the number of pools and riffles along the stream, flow stability, dominant rock type, and whether the stream is located below a dam or lake, is provided.
Fish population information about the stream is assessed, including the species, estimated numbers per hectare, and a standard error of population estimate. The existence of invertebrates (crayfish, clams, mussels) is also noted.
---
Stream Survey Points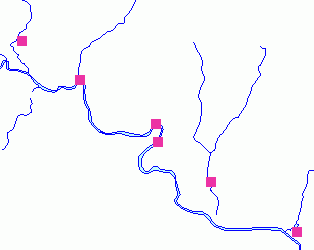 Theme Properties
| | |
| --- | --- |
| Theme Name | Fisheries_Stream_Survey_Site |
| Data Source | Fisheries_Stream_Survey_Site.shp |
| Recommended Minimum Display Scale | No Minimum |
| Recommended Maximum Display Scale | No Maximum |
| Recommended Label Field | None |
| Recommended Legend Classification Field | Sitenum |
Theme Attribute Table
Field
Name
Description
Type
Units
Domain
Sitenum
Site Number
Identifies site by number
Number
>0
X
X Coordinate
X coordinate in CSP NAD83
Number
Feet
>0
Y
Y Coordinate
Y coordinate in CSP NAD83
Number
Feet
>0
Horizontal Coordinate System
| | |
| --- | --- |
| Coordinate System | State Plane Coordinate System of 1983 |
| State Plane Zone | Connecticut, Zone 3526 |
| Horizontal Datum | North American Datum of 1983 (NAD 83) |
| Map Projection | Lambert Conformal Conic |
| Spheroid | GRS 80 |
| Map Scale | 1:24,000 |
| Map Units | Feet |
Point of Contact
Contact
Bureau of Natural Resources, Fisheries Division
Organization
State of Connecticut
Department of Environmental Protection
Mailing Address
79 Elm Street
Hartford, CT 06106-5127
Phone
(860) 424-3474
Email
DEP.GISDATA@ct.gov