Forestry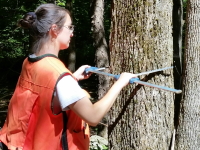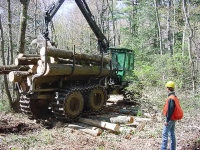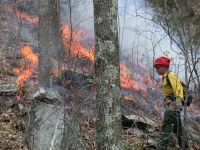 Connecticut's state foresters and their partners protect our forest resources by:
Encouraging private land owners to practice responsible long-term forest management (private landowners own 73% of Connecticut's forest, with more than two-thirds of that owned by families or individuals),
Protecting Connecticut's forest resources from the effects of fire, insects, disease, and misuse,
Providing accurate and timely information about Connecticut's forest resources,
Certifying forest practitioners,
Managing the State Forests, in which exist many large blocks of unfragmented forest land,
Engaging municipalities and citizens in the work of urban forestry, and
Promoting the local forest industry.
Hot off the press! Land and home owners be aware of Beech Leaf Disease, which is now widespread throughout Connecticut.
Beech Leaf Disease - Information for Connecticut's Tree and Woodland Owners

Do you own or manage woodland of any size? Gain woodland management knowledge and skills by joining Connecticut's Master Woodland Manager Program.
Watch this recorded webinar to get to know your foresters and learn more about the basics of forestry.
Learn how to make great maps using GIS and the Avenza App: review the transcript or view the presentation.
Watch this webinar recording to learn how to use your phone to take meaningful photos of our forested landscape. If transcriptions are desired, don't forget to turn on closed captioning!

Interested in the basics of forest carbon accumulation dynamics? Review this transcribed presentation from a recent Yankee SAF meeting.
Why Manage Forests in Connecticut?
Get a free Nature Photo (fish, forests, and wildlife) to use for a Zoom Meeting Background.
Connecticut's Distressed Trees - Be careful in the woods!
Connecticut's Forest Action Plan
Gypsy Moth - Information for Connecticut's Tree and Woodland Owners

Content last updated June 2021.