Law Enforcement Recruitment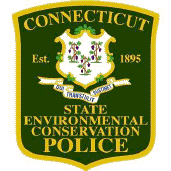 The Department of Energy and Environmental Protection, Bureau of Outdoor Recreation regularly seeks to hire Protective Services Trainees (PST) within the Environmental Conservation Police (EnCon) Division.

The Environmental Conservation Police Division also hires EnCon rangers for seasonal employment. You can find information related to seasonal hiring here.

You can find out when the EnCon Police are hiring by consulting the Connecticut Department of Administrative Services (DAS) Job Openings webpage.
Selection Process
The DEEP EnCon Police hiring process is extensive; the time from application to appointment can take several months. The application to hire process is separated into six stages:
Application Period: Apply for the PST Job Opening posted on the Connecticut DAS Job Openings webpage.
Physical Fitness Assessment: Candidates must take and pass a Physical Fitness Assessment that measures muscular strength, cardiovascular endurance and flexibility. Valid CHIP cards will be accepted prior to the CT State Police Physical Agility Test, tentatively scheduled for August. To register, please follow the instructions on the CHIP Test Schedule.

Instructional Video Links:

Polygraph Examination: Inquiries concerning employment history; driving history; medical history; financial history; gambling history; illegal possession, use and sale of drugs/narcotics; criminal activity; military history; illegal sexual activity; use of alcohol; general personal data; prior conduct in police/security/corrections fields; subversive, revolutionary or gang activity; basic honesty and integrity.
Background Investigation: Comprehensive review of employment, education, training, criminal, motor vehicle and credit history.
Psychological Evaluation: Combination of written tests and interviews to assess suitability for employment in law enforcement.
Medical Evaluation: Comprehensive physical examination, including drug screening.
EnCon Police Recruit Training Program
Successful completion of all phases of the selection process means that you are eligible to be considered for final appointment as a Protective Services Trainee. If you are selected as a Protective Services Trainee, you will enter the physically and mentally demanding training program at the State Police (Municipal) Academy. This program lasts approximately twenty-six (26) weeks and includes classroom instruction, practical exercises and physical conditioning. Trainees are required to live at the Police Officer Standards and Training Academy Monday through Friday.
After graduation from the program, Trainees are required to complete twelve (12) weeks of field training and must be able to pass a swim test including swimming 100 yards within four (4) minutes.
Important Information
Contact Information: Should you have questions pertaining to this recruitment, please contact Sergeant

Jeffrey Bruno

, 860-424-3012.

Applicants on Active Military Duty: Special accommodations may be made for applicants on active military duty at the time of the application filing period. Documentation showing out of state deployment will be required. Please contact

Jennifer Tokarczyk

, 860-424-3970.

Please ensure that your application is complete. You are unable to make revisions once you officially submit your application to the State of Connecticut. Candidates who submit an untimely, incomplete or inaccurate application will not be considered for this employment opportunity.

Due to the large volume of applications, please do not call/email to confirm receipt or status of your application. If your applications submits successfully, you will receive a pop up confirmation, in addition to a confirmation email of your application submission.
Preferred Requirements
Strong communication skills
Stable work history
Excellent attendance records
Related education or work experience
Military experience
Experience working with difficult clientele
Prior law enforcement experience
Excellent driving history
Strong computer skills
Lifesaving/Medical certifications (CPR, EMR, EMT, Paramedic, LPN, RN)
Fishing, game (hunting/trapping), boating experience
Special Requirements
Applicants for this class must have reached their 21st birthday.
Applicants must have received a high school diploma or GED before becoming a sworn member of the Division of Environmental Conservation Police.
Applicants are required to pass a Physical Agility Test prior to appointment.
Incumbents in this class must establish residence within Connecticut just prior to completion of the State Police (Municipal) Training Academy.
Incumbents must possess and retain a current Connecticut Motor Vehicle Operator's license during employment.
Content last edited January 2023