School Days to Pay Days Conference a Huge Success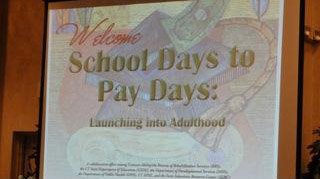 "Real work for real pay is a natural extension of our believe that people with disabilities have the right to control their lives and have authority over the resources that support them," said Department of Developmental Services (DDS) Commissioner Terrence W. Macy, Ph.D. "Working and earning a living wage supports these fundamental principles of self determination."
Commissioner Macy made these remarks at the recent "School Days to Pay Days" Launching into Adulthood Conference in Cromwell. The conference a collaborative effort by Connect-Ability, Department of Rehabilitation Services (DRS), CT Department of Education (CSDE), Department of Developmental Services (DDS), Department of Public Health (DPH), CT APSE and the State Education Resource Center (SERC).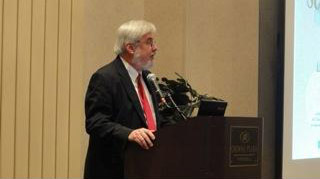 Commissioner Macy addresses the conference
Over two hundred educators, advocates, parents and employees attended the day long conference which focused on the transition from school into employment for individuals with intellectual disability.
DDS recently developed and implemented a new DDS Employment Policy and Procedure. This policy emphasizes the importance of employment. It states the individuals need a fully integrated work setting, employment should be the first option explored, the employment process should begin during a child's school age year and those already employed should focus on career advancements and increased work hours.
"The department's goals over the next year are to increase the number of individuals who are gainfully employed, decrease the number of individuals who are in sheltered workshops and day habilitation programs and focus the department's resources on employment," said Commissioner Macy.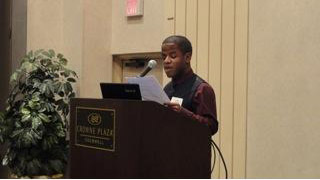 Self Advocate Coordinator Jamar Cherry tells his employment story to the audience.
After Commissioner Macy spoke, Self Advocate Coordinator from the North Region Jamar Cherry addressed the audience. He spoke about how difficult it was for him to find his way to a successful career with DDS. He spoke to the barriers he faced and how he overcame them.
"Luckily, I had some great teachers who cared about me and who encouraged me to become more independent. They helped me try lots of different types of jobs and helped me figure out what would work best for me," said Mr. Cherry. "The most important thing my teachers did was to believe in me and have high expectations for me."
DDS has a number of efforts and initiatives in place to support it's commitment to employment. In addition to the new policy, the department is launching a School to Work Pilot with DRS and CSDE to focus on graduates exiting school with a job and working with private providers on adjusting pay rates for the job development and job coaching process and expanding the employment resources on the DDS website.
"We are committed as an agency to effectively collaborate with all of you to implement these and other "transition best practices" for all people who have an intellectual disability," concluded Commissioner Macy. "We hope this conference is just one of many successful joint activities that we complete together."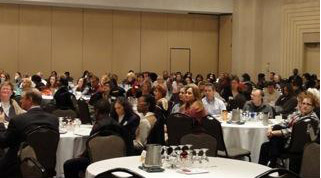 Educators, advocates, employees and families attend the School Days to Pay Days Conference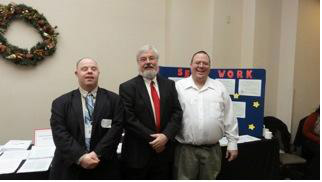 Self Advocate Coordinator Jamie Louchen, Commissioner Macy and Self Advocate Coordinator Varian Salters stand in front of the DDS Self Advocate Booth at the conference