Press Releases
08/18/2017
BEFORE YOU WATCH THE ECLIPSE: BE AWARE OF SAFETY AND TRAVEL WARNINGS
Friday, August, 18th, 2017 – The Department of Consumer Protection (DCP) wants to make sure that consumers can enjoy next week's eclipse safely. That means getting the right eyewear, and making sure they travel safely. Scammers may use the excitement around the eclipse to profit by selling unsafe eclipse viewing glasses, and by offering fraudulent travel deals to desired viewing locations.
What consumers need to know about eclipse glasses:
The only safe glasses to use for the eclipse have special filters. NASA recommends visiting the American Astronomical Society's (AAS) information on Vendors of Solar Filters and Viewers.
Make sure you visit the AAS website before you purchase glasses to make sure you get a safe brand.
If you're ordering your glasses online, make sure to read all of the fine print to ensure you're getting the brand you're looking for, and that you get your glasses in time.
Once you get your glasses, always check for scratches or damage. If they are damaged, do not use them.
Connecticut is not the path of totality (pictured below). Those not in the path of totality must keep their glasses on during the entire eclipse in order to prevent eye damage.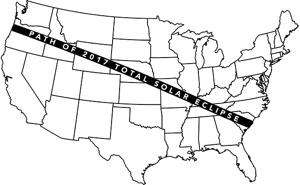 What consumers need to know about traveling to view the eclipse:
Make travel plans now: Visiting the path of totality is popular, and a lot of people will be booking trips and making reservations. Reservations for the spot you want to go may already be gone. You may also want to check the weather in your desired destination so you know how well you'll be able to see the eclipse.
Expect to pay a little more: Air travel, hotels, and rental cars are often more expensive during major events like this because companies know that they're in high demand.
Do your homework: Always read all of the terms and conditions before you book travel, especially if you're booking a bundle deal online. The need to book quickly should never stop you from protecting yourself.
Don't fall for a scam: If you get an offer that is "high quality" and cheap that it sounds too good to be true – it probably is. Always check out multiple offers, read reviews, and ask questions you have before committing.
Consumers can find more information about the eclipse on NASA's website
here
. If consumers need to a file a complaint with DCP, they can email us at
dcp.frauds@ct.gov
, or by calling (860) 713-6100.
###
Twitter: DCP on Twitter
Facebook: DCP on Facebook