Press Releases
08/16/2013
IKEA Junior Beds are Recalled for Faulty Guard Rails
HARTFORD, August 16 -- The Department of Consumer Protection is alerting consumers about a recall of  KRITTER and SNIGLAR Junior Beds Sold by IKEA. The metal rod connecting the guard rail to the bed frame can break in use, posing a laceration hazard.
About 22,000 of the beds were sold in IKEA stores nationwide and online at www.ikea-usa.com from July 2005 through May 2013 for between $60 and $90.  
Thus far, there have been two reports of the metal rod on the beds breaking, although no injuries have been reported.    
The recalled IKEA junior beds include the KRITTER and SNIGLAR models with a guard rail on one side.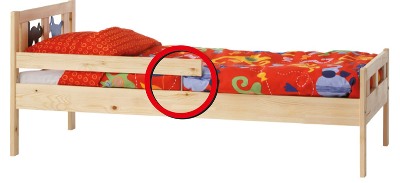 The pine wood KRITTER beds have animal cut-outs, such as a dog and cat on the headboard and a date stamp of 1114 to 1322 representing the year and week of production (YYWW).

The SNIGLAR natural beech wood beds have a white painted fiberboard insert on the headboard and footboard of the bed and a date stamp of 1114 to 1318.
The beds measure about 65 inches long by 30 inches wide with a 22 to 26 inch high headboard. The date stamp appears on a label attached to either the headboard or the underside of the bed. Model numbers included in the recall are 600.904.70 for the KRITTER and 500.871.66 for the SNIGLAR, supplier number 15361 (KRITTER) and 19740 or 18157 (SNIGLAR) printed on the same label as the date stamp. 
Consumers should immediately stop using the recalled KRITTER and SNIGLAR junior beds and contact IKEA to receive a free repair kit. Call IKEA toll-free at (888) 966-4532 anytime or online at www.ikea-usa.com and click on the recall link on the top of the page for more information. 
It is illegal to resell or attempt to resell a recalled consumer product.
-end-
Media Contact: Claudette Carveth
860-713-6022
Twitter: DCP on Twitter
Facebook: DCP on Facebook