Press Releases
03/01/2013
"Every Age, Every Stage" is Agency's Theme for Consumer Protection Week, March 3 - 9
HARTFORD, March 1– In observance of Consumer Protection Week, the Department of Consumer Protection is launching an outreach campaign encouraging consumers to learn how to avoid frauds and scams, and to be an informed consumer. 
"Connecticut has always been a leader in protecting consumers from unfair business practices and unsafe goods in the marketplace," Governor Dannel P. Malloy said. "We're taking this opportunity to remind Connecticut residents about the many consumer protections our state offers, and I encourage consumers young and old to visit the new website, SmartConsumer.ct.gov."
"At every age and every stage of life, an informed and aware consumer is more likely to avoid scams, and get a fair deal in the marketplace," Consumer Protection Commissioner William M. Rubenstein said today. "The Department's new, user-focused website makes helpful information easier to find and more accessible for consumers of all ages."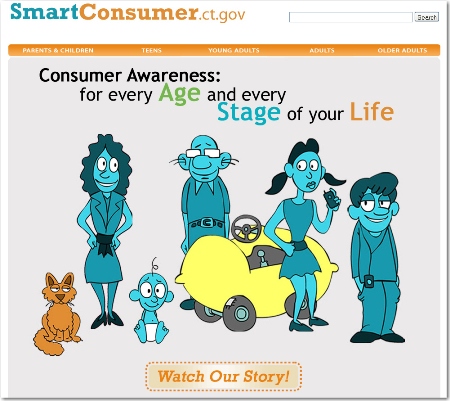 National Consumer Protection Week is observed each year in Connecticut and runs this year from March 3rd through March 9th.  
The new website, www.SmartConsumer.ct.gov , offers information that is helpful to consumers at varying stages of their lives. The site includes advice on spotting and avoiding scams such as travel fraud, rental scams, pyramid schemes and modeling scams, along with information for stopping unwanted mail, hiring home improvement contractors, and staying safe online. A 30-second public service announcement is being played in Connecticut media to help promote the site.
National Consumer Protection Week, a coordinated nationwide campaign, involves dozens of state and local consumer organizations and encourages consumers nationwide to take full advantage of their consumer rights and make better-informed decisions.
-end-
Media Contact: Claudette Carveth
860-713-6022
Twitter: DCP on Twitter
Facebook: DCP on Facebook