Press Releases
01/11/2011
Some "Pajamagram" Infant / Toddler Pajamas Recalled Due to Choking Hazard
HARTFORD
, January 11 – Department of Consumer Protection Commissioner Jerry Farrell is warning consumers who purchased pajamas from the Vermont Teddy Bear company's "Pajamagram" store that one children's style is being recalled today for safety reasons.
The U.S. Consumer Product Safety Commission, in cooperation with the Vermont Teddy Bear Co. Inc. of Shelburne, Vermont doing business as Pajamagram, today announced a voluntary recall of about 800 Hoodie-Footie™ infant and toddler footed pajamas in the "Winter Whimsy" pattern, because the metal snaps that attach the hood to the pajamas can come off, posing a choking hazard to young children.
Hoodie-Footies have a front zipper and a detachable hood. The recalled "Winter Whimsy" style is red fleece with multi-colored penguins, snowmen and snowflake designs.
The recalled pajamas were sold in infant sizes 0 to 18 months and toddler sizes 2T to 5T through Pajamagram catalogs and on the firm's website, www.pajamagram.com from November 2010 through December 2010 for about $30. The words, "Hoodie Footie," the size and the product code (GPU#SUNHFH1 or GPU#SUNHFH2) are printed on a label at the neck of the pajamas.
Consumers should immediately take the recalled pajamas away from children and contact Pajamagram to receive free replacement pajamas plus a $25 gift card. For additional information, contact The Vermont Teddy Bear Company/Pajamagram at (800) 262-1162 between 9 a.m. and 5 p.m. ET, Monday through Friday, or visit the firm's website at www.pajamagram.com
It is illegal to resell or attempt to resell a recalled consumer product.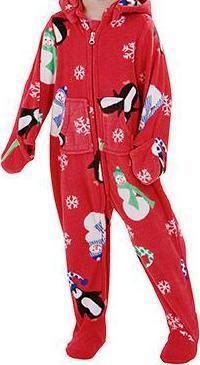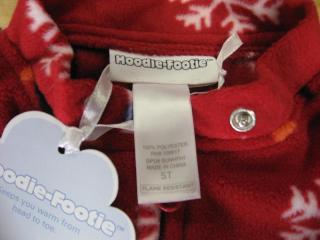 -end-
Twitter: DCP on Twitter
Facebook: DCP on Facebook