Press Releases
06/23/2011
Napa Home & Garden FireGel Recalled Nationwide
HARTFORD, June 23 – One week after the state Department of Consumer Protection launched an investigation into the serious injuries inflicted upon a Connecticut man as a result of a firepot exploding while being refilled with FIREGEL fuel, the U.S. Consumer Product Safety Commission, in cooperation with Home & Garden, of Duluth, Georgia, is announcing a voluntary recall of about 450,000 bottles and jugs of pourable NAPAfire and FIREGEL Gel fuel bottles and jugs. Consumers should stop using the recalled products immediately.

"The pourable gel fuel can ignite unexpectedly and splatter onto people and objects nearby causing severe burns," Consumer Protection Commissioner William M. Rubenstein said today. "We are aware of a of at least one Connecticut consumer who has reportedly been hospitalized due to burns from this product. Although the product is marketed and labeled as safe, the dozens of consumer injuries across the country provides strong evidence that it poses a significant hazard."
Napa indicates that it has received 37 incident reports, including 23 burn injuries to consumers. The Department of Consumer Protection reported to the Consumer Product Safety Commission the burn injury of a Connecticut consumer.
Last week, the Department issued a press release warning consumers about the product, indicating the product's hazards. NAPAfire and FIREGEL Gel fuel are clear, pourable gel fuel packaged in clear one-quart plastic bottles and one-gallon plastic jugs and sold in non-scented and citronella scents. The fuel is poured into a stainless steel cup in the center of firepots or other decorative lighting devices and ignited.
Napa fire gel products were sold at Bed Bath & Beyond, Shopko, Restoration Hardware, specialty and gift shops, furniture stores, and home and garden stores nationwide, as well as through Amazon.com, home and garden catalogs, and home decorators and landscape architects between December 2009 and June 2011 for between $5 and $78.
Consumers should immediately stop using NAPAfire and FIREGEL Gel fuel and return all bottles or jugs to the retailer where purchased for a full refund. A retrofit for Napa brand firepots is being evaluated and may be available soon.
Consumers now have a powerful new online tool to search and report on hazardous products: www.SaferProtects.gov.
For additional information, please call Napa Home & Garden at (888) 893-2323 between 9 a.m. and 6 p.m. ET Monday through Friday, visit Napa's website at http://www.napahomeandgarden.com/. It is illegal to resell or attempt to resell a recalled consumer product.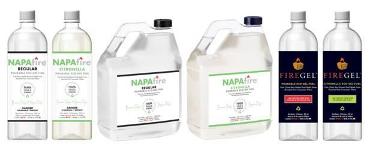 -end-

Media Contact: Claudette Carveth
860-713-6022
Twitter: DCP on Twitter
Facebook: DCP on Facebook