Press Releases
08/26/2011
FDA Warns of Life-Threatening Injuries Associated with "ShoulderFlex Massager"
HARTFORD, August 26 – The Department of Consumer Protection is sharing important safety information provided by the Food and Drug Administration (FDA) about the
"ShoulderFlex Massager" by King International.

The FDA wants health professionals and consumers to know about serious health risks posed by the ShoulderFlex Massager. The FDA is aware of reports to the Consumer Product Safety Commission of one death and one near-strangulation associated with the massager. These incidents occurred when a necklace and clothing became caught in a piece of the device that rotates during use. Two other reports involved clothing and hair that became caught in the device. 
The ShoulderFlex Massager, distributed by King International, is a personal massage device designed for home use to provide deep tissue massage to the neck, shoulder and back while the user lies on a flat surface. King International has distributed 11,934 devices since Oct. 18, 2003. The devices were sold at various stores and online retailers in the United States. 
The FDA advises that consumers do not use the ShoulderFlex Massager. The agency is evaluating King International's plan for a recall of the massager, which may lead to additional action by the FDA or King International. Return information for consumers may become available at that time.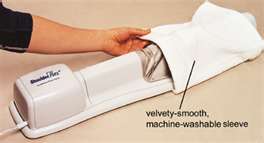 The full safety alert, including a link to the FDA safety communication, is at:
http://www.fda.gov/Safety/MedWatch/SafetyInformation/SafetyAlertsforHumanMedicalProducts/ucm269765.htm
-end-
Media Contact: Claudette Carveth
860-713-6022
Twitter: DCP on Twitter
Facebook: DCP on Facebook