Press Releases
04/26/2011
"Disney Princess" Plastic Trikes and "Lights and Sounds" Children's Scooters are Recalled Due to Laceration Hazard
HARTFORD
, April 26 -- About 9.000 Disney Princess Plastic Racing Trikes and about 16,000 Lights and Sounds Children's Scooters sold nationwide at JC Penney, Meijer and H.E.B. stores and on the Web at

www.target.com

are being recalled due to laceration hazards, the Department of Consumer Protection reported today.

 

The U.S. Consumer Product Safety Commission (CPSC) and Health Canada, in cooperation with Kiddieland Toys Limited, of Scituate, Mass. issued a voluntary recall of the items.

The recalled trikes are pink and fuchsia with a purple seat and wheels. On top of the handlebar, there is a rotating castle display surrounded by three princess figures. "Disney Princess" is printed on the label in front of the trike just below the handlebar. The plastic castle display and the princess figures protruding from the top of the handle bar pose a laceration hazard if a child falls on it. CPSC and Kiddieland have received three reports of children suffering facial lacerations.
The trikes were sold at Target, JCPenney, Meijer and H.E.B. stores nationwide and on the Web at www.target.com from January 2009 through April 2011 for about $50.
The recalled"Lights and Sounds" three-wheeled scooters include a red Spiderman, a blue Thomas & Friends™ and a pink girl's scooter. The scooters have buttons on the handle that play music and sounds. "Kiddieland" is molded on the back of the steering mechanism. Spiderman or Thomas & Friends™ are found on the steering mechanism and platform. The girl's model has butterflies on the platform. A child's finger can get caught in the hinge mechanism between the steering column and the platform, posing a laceration hazard. CPSC and Kiddieland have received two reports of children whose fingers got caught in the hinge mechanism and required stitches.
The scooters were sold at Toys R Us and JCPenney from January 2009 through February 2011 for about $40. Consumers should immediately take the recalled scooters and trikes away from children and contact Kiddieland for a free repair kit. For additional information, contact Kiddieland toll-free at (800) 430-5307 or visit the firm's website at www.kiddieland.com.hk
It is illegal to resell or attempt to resell a recalled consumer product.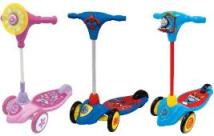 -end-

Media Contact: Claudette Carveth
860-713-6022
Twitter: DCP on Twitter
Facebook: DCP on Facebook