Press Releases
10/17/2011
Consumers Alerted to CooperVision Avaira Toric Soft Contact Lenses Recall
Unintended Residue on Lenses Can Cause Symptoms
HARTFORD, October 17 –Some CooperVision Avaira Toric contact lenses contain an unintended silicone oil residue, prompting a manufacturer's nationwide recall, the Department of Consumer Protection announced today.
CooperVision Inc. of West Henrietta, New York is recalling certain lots of its AVAIRA Soft Contact Lenses for single-use disposable wear and daily wear in patients with nearsightedness or farsightedness with astigmatism. The lenses affected with the oil residue were manufactured from November 1, 2010 through August 3, 2011. Approximately 778,301 of these lenses were distributed.
Symptoms caused by the silicone oil residue range from hazy, blurry vision, and discomfort to eye injuries requiring medical treatment. 
Wearers of the the CooperVision AVAIRA Soft Contact Lenses for single-use disposable wear and daily wear are urged to visit the company's recall web page at www.coopervision.com/recall and enter the package lot number that is printed on their contact lens package to determine whether the lenses have been recalled. The lot number is on the outside of the Avaira package and on each individual lens blister pack. Consumers may also contact the company's toll-free consumer hotline at 1-855-526-6737.
Consumers who have the recalled lenses should return them to their eye care practitioner for a refund or exchange.  In addition, consumers who wear Avaira Toric contact lenses and who experience any symptoms are urged to stop wearing the lenses immediately and contact their eye care practitioner for advice.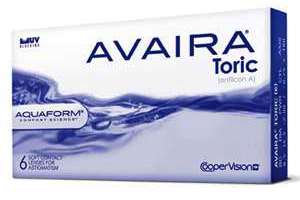 Media Contact: Claudette Carveth
860-713-6022
Twitter: DCP on Twitter
Facebook: DCP on Facebook