Press Releases
02/16/2011
Burlington Basket Company Bassinets Sold at Wal-Mart and Other Stores are Recalled Due to Fall Hazard
HARTFORD, February 16 -- The Department of Consumer Protection is alerting consumers that the U.S. Consumer Product Safety Commission, in cooperation with Burlington Basket Company, of Burlington, Iowa is voluntarily recalling about 500,000 bassinets for incomplete locking instructions.

 
Consumers should immediately stop using the bassinets and check the cross-bracing support rails to make sure they are in the locked position. To properly lock the support rails into place, the end tabs must be fully inserted into the holes on the leg assembly and twisted one quarter turn into the locked position, as shown in the photos below. This recall does not involve returning the bassinet.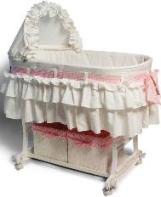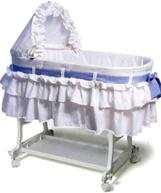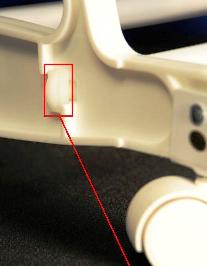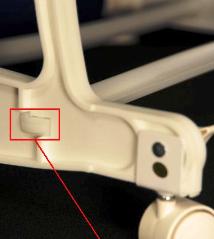 correct                                     incorrect
If the cross-bracing rails are not fully locked into position, the bassinets can collapse causing the infant to fall to the floor or within the bassinet and suffer injuries.
There have been 10 reported incidents in which the bassinets collapsed when the folding legs were not locked into place. Two infants received minor injuries as a result of these collapses.
This recall involves all Burlington Basket bassinets manufactured before June 2010. Affected models have folding legs attached to the basket with white plastic pins. Units with non-folding legs attached with metal pins are not included in this recall.
The recalled items were sold at Wal-Mart and other department stores and juvenile stores nationwide and online by various retailers, including Amazon.com, from January 2003 through August 2010 for about $50.
Consumers should also contact Burlington Basket Company for a free kit with detailed instructions on proper assembly of the cross-bracing support rails and decals with assembly instructions to place on the bassinet. A video showing proper assembly of the bassinets is available is available at http://burlingtonbasket.org/BASSINETRECALL.aspx.
For additional information, contact Burlington Basket Company at (800) 553-2300 between 8 a.m. and 4 p.m. CT Monday through Friday, or visit the firm's website at www.burlingtonbasket.com
It is illegal to resell or attempt to resell a recalled consumer product.
-end-
Media Contact: Claudette Carveth
860-713-6022
Twitter: DCP on Twitter
Facebook: DCP on Facebook