Press Releases
06/01/2011
Bell Sports Recalls Bicycle Helmets Due to Head Injury Hazard
HARTFORD
, June 1 -- The Department of Consumer Protection is alerting consumers about a voluntary recall of some bicycle helmets announced today by the U.S. Consumer Product Safety Commission and Bell Sports, of Scotts Valley, California.

About 31,100 full-face Bell Exodus bicycle helmets are being recalled because the plastic buckle that connects the chin straps can fail, causing the helmet to come off the wearer's head. This poses a head injury hazard to riders in the event of a fall. Bell Sports has received one report of a buckle failing during an accident, resulting in an injury that required stitches below the wearer's eye.
The helmets were sold in Walmart stores nationwide and Amazon.com between August 2009 and March 2011 for between $50 and $60.
This recall involves the Bell Exodus models and part numbers listed below. The helmets have an angled visor and were sold in youth size. The model and part number can be found on a removable sticker located on the side of the helmet.
| | |
| --- | --- |
| Color | Part/Model Number |
| Orange/Grey/Black | 1003825/035011898025 |
| Blue/Grey/Gold/White/Black | 1006714/035011917719 |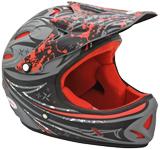 Consumers should stop using the helmets immediately and contact Bell Sports for a replacement or refund. For additional information call Bell Sports toll-free at (866) 892-6059 between 8 a.m. to 5 p.m. CT Monday through Friday, via email at answer_desk@bellsports.com, or visit the firm's website at www.bellsports.com
It is illegal to resell or attempt to resell a recalled consumer product.
-end-
Media Contact: Claudette Carveth
860-713-6022
Twitter: DCP on Twitter
Facebook: DCP on Facebook
{"commands":[{"click":"chrome:field:editcontrol({command:\"webedit:edithtml\"})","header":"Edit Text","icon":"/temp/iconcache/office/16x16/pencil.png","disabledIcon":"/temp/pencil_disabled16x16.png","isDivider":false,"tooltip":"Edit the text","type":null},{"click":"chrome:field:execute({command:\"bold\", userInterface:true, value:true})","header":"","icon":"/temp/iconcache/office/16x16/font_style_bold.png","disabledIcon":"/temp/font_style_bold_disabled16x16.png","isDivider":false,"tooltip":"Bold","type":null},{"click":"chrome:field:execute({command:\"Italic\", userInterface:true, value:true})","header":"","icon":"/temp/iconcache/office/16x16/font_style_italics.png","disabledIcon":"/temp/font_style_italics_disabled16x16.png","isDivider":false,"tooltip":"Italic","type":null},{"click":"chrome:field:execute({command:\"Underline\", userInterface:true, value:true})","header":"","icon":"/temp/iconcache/office/16x16/font_style_underline.png","disabledIcon":"/temp/font_style_underline_disabled16x16.png","isDivider":false,"tooltip":"Underline","type":null},{"click":"chrome:field:insertlink","header":"","icon":"/temp/iconcache/office/16x16/link.png","disabledIcon":"/temp/link_disabled16x16.png","isDivider":false,"tooltip":"Insert a link into the text field.","type":null},{"click":"chrome:field:insertimage","header":"Insert image","icon":"/temp/iconcache/office/16x16/photo_landscape.png","disabledIcon":"/temp/photo_landscape_disabled16x16.png","isDivider":false,"tooltip":"Insert an image into the text field.","type":null}],"contextItemUri":"sitecore://master/{F73EEA5B-06D5-4126-B0BF-8F345ADCB81D}?lang=en&ver=2","custom":{},"displayName":"Contact Info","expandedDisplayName":null}
[No text in field]
{"commands":[{"click":"javascript:Sitecore.PageModes.PageEditor.postRequest('webedit:fieldeditor(command={1DE2582A-575B-4022-98B4-E66EA87E7AB1},fields=Show Social Buttons,id={F73EEA5B-06D5-4126-B0BF-8F345ADCB81D})',null,false)","header":"Edit Fields","icon":"/temp/iconcache/people/16x16/cubes_blue.png","disabledIcon":"/temp/cubes_blue_disabled16x16.png","isDivider":false,"tooltip":"Edit the following fields: Show Social Buttons","type":null}],"contextItemUri":"sitecore://master/{F73EEA5B-06D5-4126-B0BF-8F345ADCB81D}?lang=en&ver=2","custom":{},"displayName":"Toggle Social Buttons","expandedDisplayName":""}

Toggle Social Buttons
Twitter: DCP on Twitter
Facebook: DCP on Facebook