Press Releases
06/08/2011
American Girl Crafts Jewelry Kits are Recalled Due to Violation of Lead Paint Standard
HARTFORD, June 8 -- The Department of Consumer Protection is alerting consumers about a voluntary recall of American Girl Crafts™ Pearly Beads & Ribbon Bracelets kit. The U.S. Consumer Product Safety Commission, in cooperation with EKSuccess Brands, a division of Wilton Brands Inc., of Woodbridge, Illinois announced the voluntary recall because it was found that the surface coating on some of the beads contains excessive levels of lead, which is prohibited under federal law.
It is illegal to resell or attempt to resell a recalled consumer product.
About 75,000 of the Pearly Beads & Ribbon Bracelets kit were distributed under the American Girl Crafts name by Michaels Stores and other retailers nationwide from September 2009 through June 2011 for about $8.
A SKU number of 30-585331 is located on the back of the package in the lower right corner. The kit contains 56 pieces. The beads in the jewelry kit are pink, blue, orange and white. Some pink beads have darker pink butterflies imprinted on them. The ribbons in the kit are orange, red, blue and purple.
Consumers should immediately take the recalled kits and any finished bracelets made from the kits away from children and contact the company for a full refund. For additional information, contact EKSuccess Brands toll-free at (855) 535-2099 between 8 a.m. and 4:30 p.m. CT Monday through Thursday and between 8 a.m. and 2 p.m. CT on Fridays or visit the firm's website at www.eksuccessbrands.com.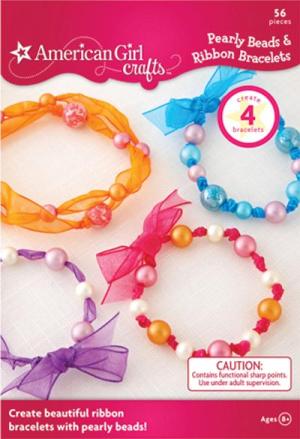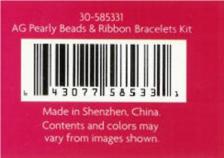 -end-
Media Contact: Claudette Carveth
860-713-6022
Twitter: DCP on Twitter
Facebook: DCP on Facebook