Press Releases
03/04/2011
AOSOM Wooden Playpens are Recalled Due to Choking and Laceration Hazards
HARTFORD, March 4 --  Four playpen models sold online in the U.S. are being voluntarily recalled for choking and laceration hazards, the Department of Consumer Protection said today. Sixty-nine reports of breaking, splitting and cracking of wooden parts led the federal Consumer Product Safety Commission and the importer, AOSOM LLC, of Tualatin, Oregon to issue the voluntary recall. Consumers should stop using the wooden playpens immediately and contact AOSOM for instructions on how to return the product for a full refund.

About 5,000 playpens were sold online at: AOSOM.com, Amazon.com, eBay.com and other online retailers from October 2008 through November 2010 for between $30 and $150. The playpens have broken at points where screws and other hardware are located. Small broken wood pieces and hardware from the playpen pose a risk of choking and laceration hazards to children. In addition, an unstable playpen can fall over onto a child, posing an entrapment hazard.
The 69 consumer complaints included one in which a child was mouthing a piece of broken wood, and three reports of children found with a broken piece of wood or a playpen screw in their hand. The objects were removed without injury.
The recalled AOSOM wooden playpens are made from pine, and the firm's logo "A" and "www.AOSOM.com" are stamped on the gate of the playpen. The following four models are included in the recall:
·         AOSOM 3 in1 Baby Wooden Superyard Playpen Combo, Model 5664-0017S&G, sold for $149.99
·         AOSOM Baby 8 Panel Wooden Playpen Room Divider, Model 5664-0017, sold for $119.99
·         AOSOM Baby 8 Sided Wooden Playpen 2 Panels, Model 5664-0017S, sold for $29.99
·         AOSOM Baby 8 Sided Wooden Playpen Gate, 5664-0017G, sold for $29.9 9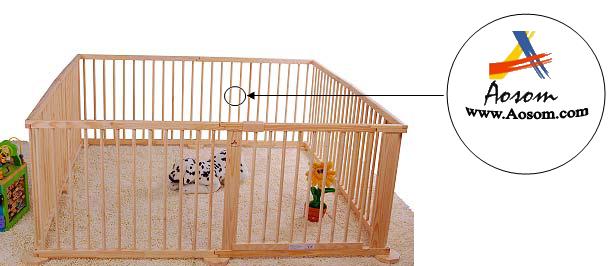 For additional information, contact the firm toll-free at (877) 644-9366 between 9 a.m. and 5 p.m. PT Monday through Friday, or e-mail the firm at service@aosom.com. Consumers can also visit the firm's website at www.aosom.com. It is illegal to resell or attempt to resell a recalled consumer product.
-end-
Media Contact: Claudette Carveth
860-713-6022
Twitter: DCP on Twitter
Facebook: DCP on Facebook