Slopers Pond, Southington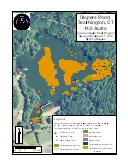 Slopers Pond is located in Southington, CT. It is 15 acres with a YMCA summer camp located on its shore. There are two designated swimming areas. A majority of the pond is surrounded by forest with no private residents.
The CAES IAPP 2010 survey found seven species growing in the lake, five native aquatic plants and two invasive aquatic plants. The two invasive plants are curlyleaf pondweed (Potamogeton crispus) and minor naiad (Najas minor). Curlyleaf pondweed was found in four small patches on the south eastern shore. It was found occurring with coontail (Ceratophyllum demersum), small pondweed (Potamogeton pusillus), and large-leaf pondweed (Potamogeton amplifolius). Minor naiad was found along the western, southern, and southeastern shorelines. It was found occurring in small to medium sized patches growing primarily with large-leaf pondweed and small pondweed.
Coontail was the most dominant plant in the Slopers Pond. Three very large patches were found across the middle of the pond into the western cove. No other species were occurring with the two patches in the middle of the pond. The western cove found occurrences of common duckweed (Lemna minor), small pondweed, large-leaf pondweed, and curlyleaf pondweed along with coontail. A few medium sized patches of small pondweed were found in the southern cove and along the southeastern coast. Three small patches of large-leaf pondweed were found occurring alone in the northern cove. Along the northern coast an area of coontail, large-leaf pondweed, and small pondweed was found without any one species dominating.