Jepp Pond, Hamden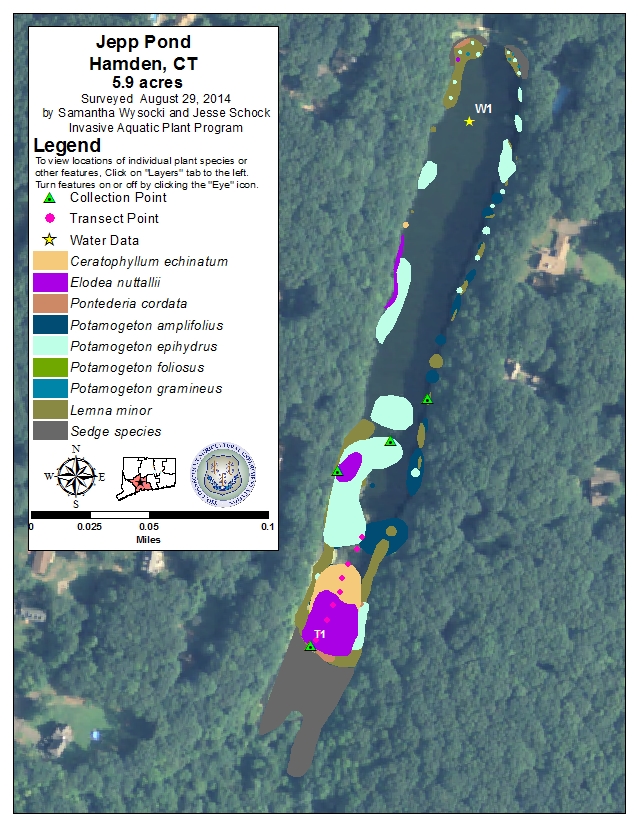 2014 Aquatic Plant Survey Map of Jepp Pond
Jepp Pond is a private 6-acre waterbody located in Hamden, CT. The pond is surrounded by trees with the exception of a few houses, which maintain a tree buffer between their lawns and the pond. There is a small stream on the southern edge of the pond and a dam on the northern side.
The CAES IAPP 2014 survey found 9 native aquatic plant species and no invasive species. The most commonly found plants were pondweeds that are large-bodied and produce floating leaves: large-leaf pondweed (
Potamogeton amplifolius
) and ribbon-leaf pondweed (
Potamogeton epihydrus
) as well as a small floating plant common duckweed (
Lemna minor
)
.
All three species were found around the shoreline and much of the southern half of the pond due to shallow depth. Other plant species that occurred in the lake were spineless hornwort (
Ceratophyllum echinatum
), western waterweed (
Elodea nuttallii
), and leafy pondweed (
Potamogeton foliosus
)
.
The most southern portion of the pond is filled in with sediment and various sedge plants.