Hansens Pond, Mansfield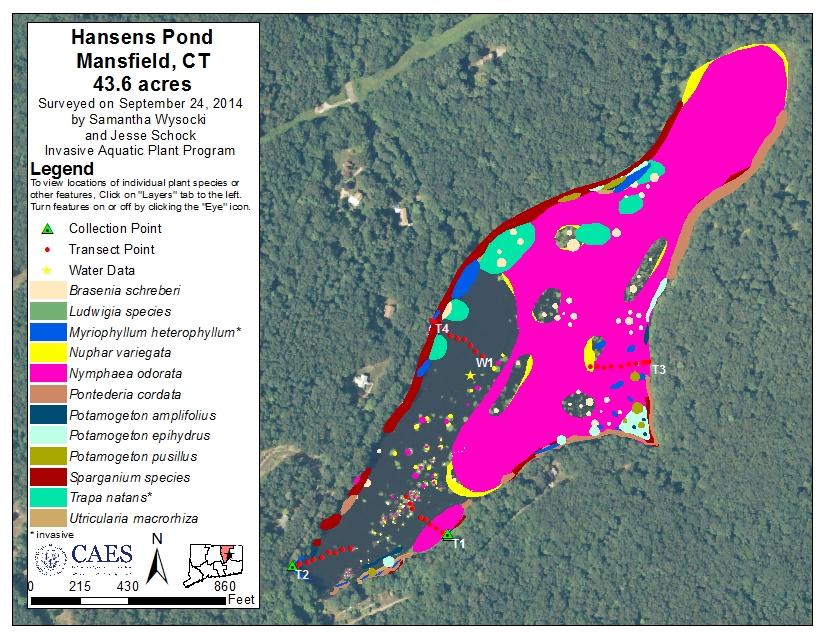 Hansens Pond is a 43.6-acre waterbody located in Mansfield, CT. The shoreline is primarily forested and there is no public boating access. The shallow nature of the pond combined with a mucky bottom provides favorable conditions for aquatic plant growth.
Our 2014 IAPP survey found the invasive species variable-leaf watermilfoil (
Myriophyllum heterophyllum
) and water chestnut
(Trapa natans
) and ten native species in the pond. Variable-Leaf watermilfoil occurred in small patches around the edge of the pond while water chestnut occurred only on the western shore. The most dominant native plants were yellow water lily (
Nuphar variegata
) and white water lily
(Nymphaea odorata
) which sprawled throughout the entire waterbody and covered the northern portion of the pond. There were three pondweeds present mainly in the eastern cove of the pond: large-leaf pondweed (
Potamogeton amplifolius
), ribbon-leaf pondweed (
Potamogeton epihydrus
), and small pondweed (
Potamogeton pusillus
)
.
Other native species found throughout the pond were watershield (
Brasenia schreberi
), bur-reed (
Sparganium
species),and common bladderwort (
Utricularia macrorhiza
).