Lower Dividend Pond, Rocky Hill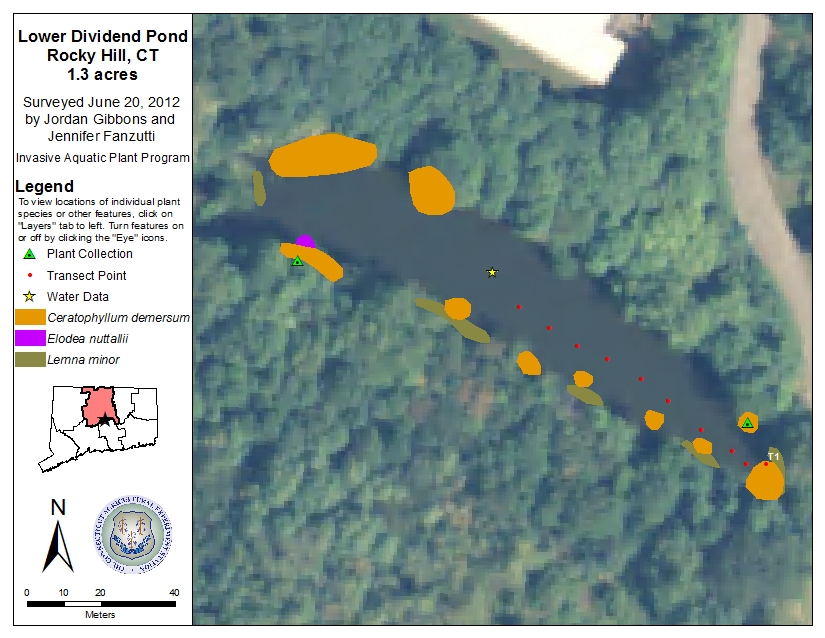 Lower Dividend Pond is a 1.3-acre pond located in Rocky Hill, CT. It is located on a newly distinguished open space that was formed by Rocky Hill in June of 2012. Various trails lead around the pond and connects to the Upper Pond. The Upper Pond drains into Lower Pond via an old industrial mill dam located in the northwestern corner of the lake.


The CAES IAPP surveyed both Upper and Lower Dividend Ponds in 2012 (
Upper Dividend Pond Survey
). The Lower Pond survey found the presence of three native plants and no invasive plants. Two of the plants, Canadian waterweed (Elodea canadensis) and common duckweed (Lemna minor), were also found in the upper pond. Canadian waterweed was found in one spot in the northwest corner where the dam drains into the Lower Pond. Common duckweed was found in small patches close to the shore in scattered areas around the pond. The third, most dominant species, was coontail (Ceratophyllum demersum). This plant was found in small to medium patches around the shore line. The largest patch was found in the northeast corner of the pond.