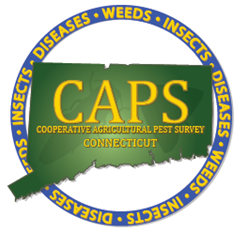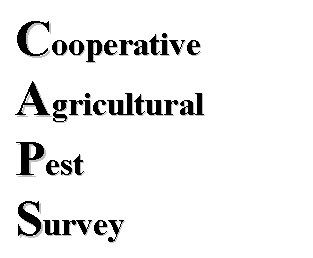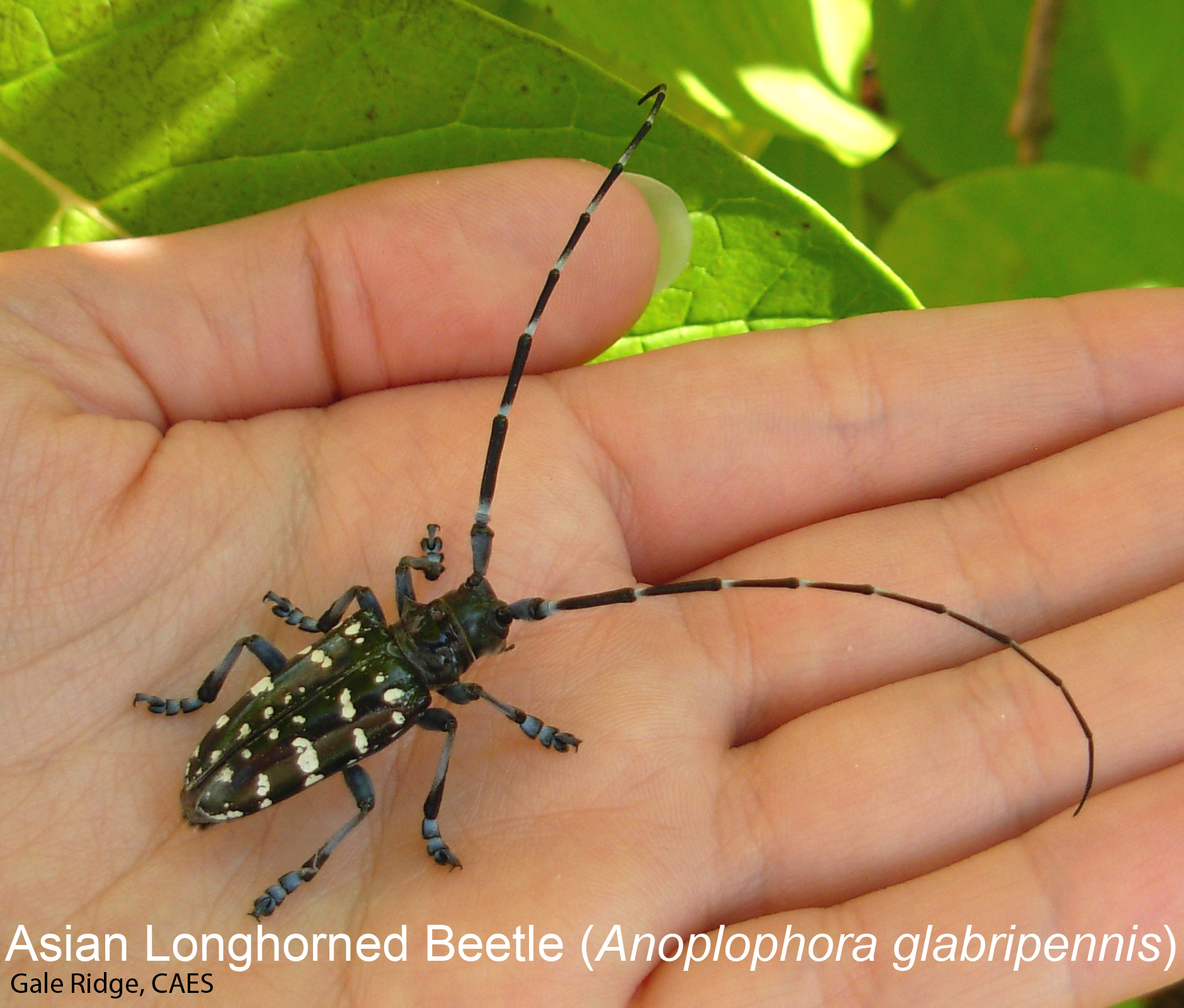 The CAPS program is a cooperative effort between the U.S. Department of Agriculture (USDA) Animal and Plant Health Inspection Service (APHIS) Plant Protection and Quarantine (PPQ) and The Connecticut Agricultural Experiment Station (CAES). Through the CAPS Program, surveys are conducted to detect or delimit exotic plant pests - insects, weeds and diseases that are not known to occur in the U.S. or have been recently introduced through U.S. ports of entry or other pathways. CAPS surveys and other monitoring activities strive to protect agriculture and natural resources and to prevent economic and environmental losses.
The CAPS State Survey Committee in Connecticut (see link below) serves as an advisory group for CAPS survey activities in the state. Committee members meet several times per year to provide input on upcoming exotic pest surveys, discuss survey results and share relevant information on pest occurrences in Connecticut. Pest distribution data from surveys and other sources provided by State Survey Committee members is submitted to a national database. This information is available for retrieval upon request.
Accomplishment Reports
CAPS Pest Lists:
The workplans below contain the CAPS pest lists for 2016 to 2019.
Workplans:
Useful Links:
State Plant Regulatory Official:
Dr. Kirby C. Stafford III
Chief Scientist/State Entomologist
The Connecticut Agricultural Experiment Station
123 Huntington Street, P.O. Box 1106
New Haven, Connecticut 06504
Telephone Number: 203-974-8485
Lead Agency: The Connecticut Agricultural Experiment Station
CAPS Contact Person For Connecticut:
Deputy State Plant Regulatory Official
Dr. Victoria L. Smith
Deputy State Entomologist
The Connecticut Agricultural Experiment Station
123 Huntington Street, P.O. Box 1106
New Haven, Connecticut 06504
Telephone Number: 203-974-8474
Lead Agency: The Connecticut Agricultural Experiment Station
CAPS State Survey Committee Members:
| | | |
| --- | --- | --- |
| Name | Organization | Discipline |
| Kate Aitkenhead | USDA APHIS PPQ | State Plant Health Director |
| Nichole Carrier | USDA APHIS PPQ | Pest Survey Specialist |
| | Connecticut Department of Energy and Environmental Protection, CT Tree Protector's Association | Urban Forestry, Arboriculture |
| Gerda Magana | The Connecticut Agricultural Experiment Station | State Survey Coordinator Entomology |
| | CT NOFA | Organic Farming |
| Kevin Grady | Connecticut Department of Energy and Environmental Protection | Forestry |
| James LaMondia | The Connecticut Agricultural Experiment Station | Plant Pathology and Ecology, Nematology |
| Jane O'Donnell | University of Connecticut | Entomology |
| | The Connecticut Department of Agriculture | Economics, Marketing |
| Claire Rutledge | The Connecticut Agricultural Experiment Station | Entomology |
| Victoria Smith | The Connecticut Agricultural Experiment Station | Plant Pathology and Ecology |
| Kirby Stafford | The Connecticut Agricultural Experiment Station | Entomology |
| Kimberly Stoner | The Connecticut Agricultural Experiment Station | Entomology |
| Victoria Wallace | University of Connecticut | Ornamentals IPM |
| Jason White | The Connecticut Agricultural Experiment Station, Director | Analytical Chemistry |
| Kevin Sullivan | Connecticut Nursery and Landscape Association | Nursery Grower |
| Rose Hiskes | The Connecticut Agricultural Experiment Station | Horticulture |
| Nicholas Goltz | University of Connecticut | Integrated Pest Management |
| Mary Concklin | University of Connecticut | Integrated Pest Management |
| Rayda Krell | Western Connecticut State University | Entomology |
| Joshua Tracy | South Central Connecticut Regional Water Authority | Invasive Species |
| Charles Baker | USDA APHIS PPQ | |
| Carole Cheah | The Connecticut Agricultural Experiment Station | Entomology, Horticulture |
| Robert Marra | The Connecticut Agricultural Experiment Station | Plant Pathology and Ecology |
| Christopher Martin | Connecticut Department of Energy and Environmental Protection | Forestry |