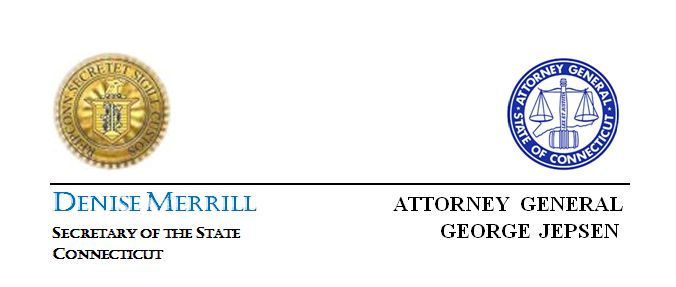 Secretary of the State and Attorney General Collect
More than $1 Million from Companies Doing Business Illegally in Connecticut

Connecticut Secretary of the State Denise Merrill and Attorney General George Jepsen announced that enforcement efforts against out-of-state companies operating in Connecticut without legal authority have yielded $1.1 million in Fiscal Year 2016. The penalties were paid out by more than 240 companies, the largest fine being $39,630.
Secretary Merrill, Connecticut's Chief Business Registrar said, "We will do everything we can to make it easy to do business in the state. My office recently launched the online business formation tool, which will assist out-of-state entities obtain a certificate of authority to operate in Connecticut. We do understand that in many cases the failure to register was unintentional. However, in order to ensure accountability to consumers we must have a record of businesses in operation. It is worth noting that the amount collected is significantly lower than last year, which leads us to believe that efforts to inform out-of-state businesses of their responsibilities have been successful."
"Out-of-state companies may not be aware that they must register before conducting business in Connecticut; however, it is important that they do so," said Attorney General Jepsen. "Registration provides consumers with a layer of security and ensures that all businesses are operating on a level playing field. It is my continued hope that, through these joint enforcement efforts, we can educate out-of-state businesses about their responsibilities under Connecticut law and help to encourage compliance. I commend Secretary Merrill and the efforts her office has made in recent years to expand the online services available to businesses that make the registration process much easier."
Connecticut Better Business Bureau spokesman, Howard Schwartz, says this is about more than just a regulatory issue.
"This is about fairness for businesses in their home state," according to Schwartz. "This also about protecting consumers from companies that did not follow the rules like everybody else. Consumers should make sure companies and individuals they do business with are registered, properly licensed, insured and competent."

State law requires that business corporations, nonstock corporations, limited partnerships, limited liability companies, limited liability partnerships, and statutory trusts formed outside of Connecticut must obtain a certificate of authority from the Secretary of the State's Office and pay a fee set by statute before transacting business in Connecticut.
In 2015, almost 5,000 foreign entities properly filed with the Secretary of the State's Office.
Businesses are required to obtain authorization to do business in Connecticut in order to protect consumers with a grievance against an out-of-state firm. Authorization requires businesses to appoint an agent for service of process in Connecticut, which is able to accept legal papers if court action is taken. Companies in violation of the state's law are subject to a $300 fine for every month the company is transacting business in Connecticut without legal authority. In addition, some business corporations are required to pay the annual license fee required by statute for years they should have been registered with the Secretary of the State's office. After obtaining a certificate of authority to transact business in Connecticut, out-of-state companies must also file a yearly annual report with the Secretary of the State's office.
The collections ranged from $135 to $39,630. This year's total of $1.1 million is a good deal lower than the more than $1.7 million collected from 353 out-of-state companies in FY 2015.
###
Media Contacts:
Office of the Secretary of the State:
Patrick Gallahue
860-509-6255 (office)
860-463-5939 (cell)

Office of the Attorney General:
Jaclyn M. Falkowski
860-808-5324 (office)
860-655-3903 (cell)
Consumer Inquiries:
860-808-5318